Scotland's Isle of Skye is a part of the UK that captures the imagination like no other. Packed to the brim with epic mountainscapes and dramatic scenery, it's a hiker's delight. The best part? There's an 80-mile hiking trail that crosses the island and is walkable in a week. Neil Irwin tells us more about the Skye Trail…
The Isle of Skye is a highly popular destination in Scotland thanks to the rise of social media, its picturesque landscapes and its notorious distillery, Talisker. Having visited many times, I know I love this uniquely Scottish island. This time however, I wanted to explore it away from the hustle of all the tourists and have my own unique adventure. To get out in to the backcountry, and explore more of what this island has to offer. This is why my friend Janey and I decided to hike The Skye Trail.
The Skye Trail, is an unofficial 80-mile-long multi-day hike taking in some of the island's best features including The Old Man of Storr, the Quairaing and the Cuillin range which is arguably one of the best mountain ranges in the UK. This is why the trail could be considered as one of Scotland's best.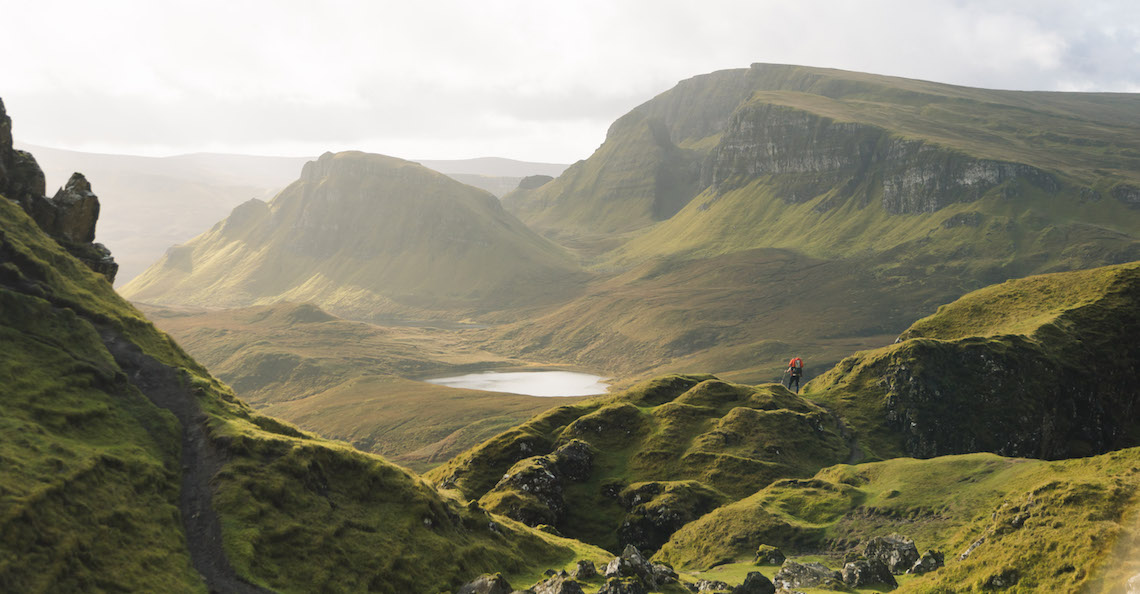 Most hikers tend to start in the north at Rubha Hunish, and finish some seven days later in Broadford, although the route can also be hiked in reverse. It is technically an unofficial hike as some sections are unmarked, and you'll have to cross terrain that has no paths or way markers, which is why a map and compass and good navigation skills are still highly recommended, especially if the notorious Scottish weather draws in. The Skye Trail can be navigated most of the year, where late spring and early summer brings in the better weather and potentially some glorious sun-drenched days. This is however peak season, so don't expect to have the trail to yourself.
Janey and I on the other hand, decided to head out in mid October, where the weather is more unpredictable, but we were more likely to have the trails to ourselves without being attacked by the incessant midge and tick population that is more prevalent in the summer months. Thankfully, our luck was in, as we were able to hike during some lovely sunny days with only the occasional shower to walk through. A decent pair of rugged waterproof boots and gaiters would also be highly recommended, as I soon found out.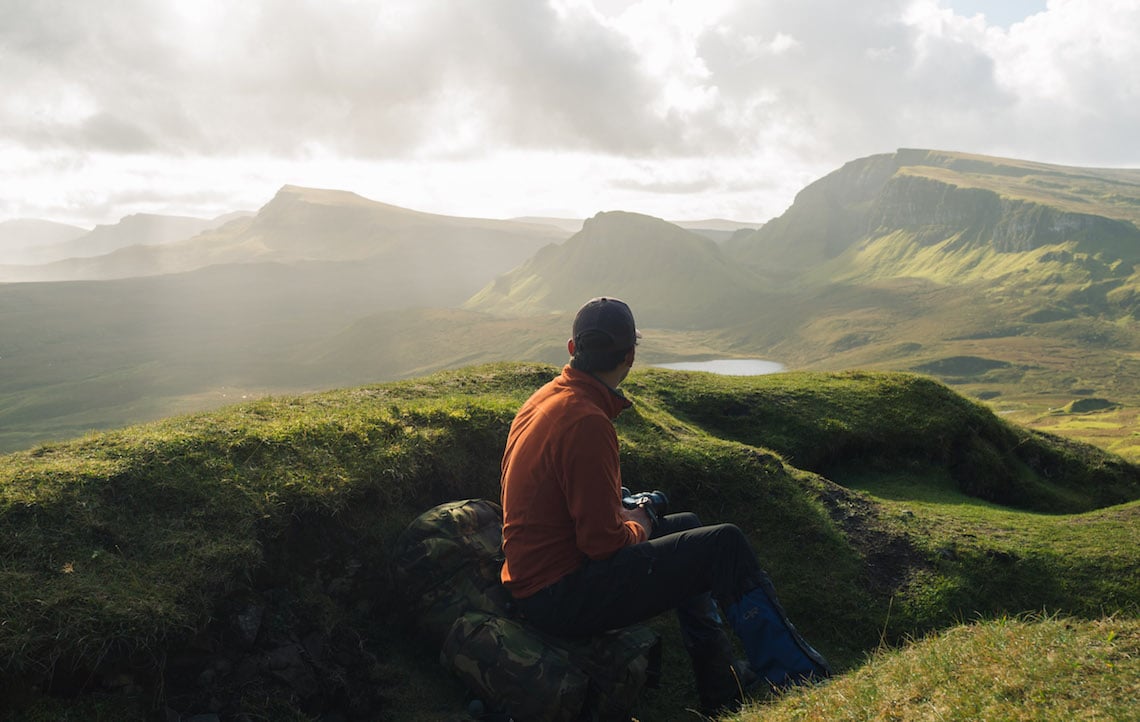 There are a couple of different ways that the Skye Trail can be accomplished. The first is to head completely off grid and carry everything you need for the hike and be completely self-sufficient, although resupplies can be made in Broadford. The Scottish Land Reforms Act allows you to access and camp on open outdoor areas so long as it's done so in a responsible manner, meaning you can enjoy epic sunrises, sunsets and a wee dram as the stars come in to view. The Scottish Outdoor Access Code would be worth getting to know beforehand for an overview of the do's and don'ts. There are also campsites in certain areas along the Skye Trail, should you wish to make use of some proper facilities along the way.
The second, is to use a company that can take care of accommodation for you, so all you have to do is enjoy the walk with just a day pack, knowing you can get to a hotel, hostel or B&B that has a bed with your name on it.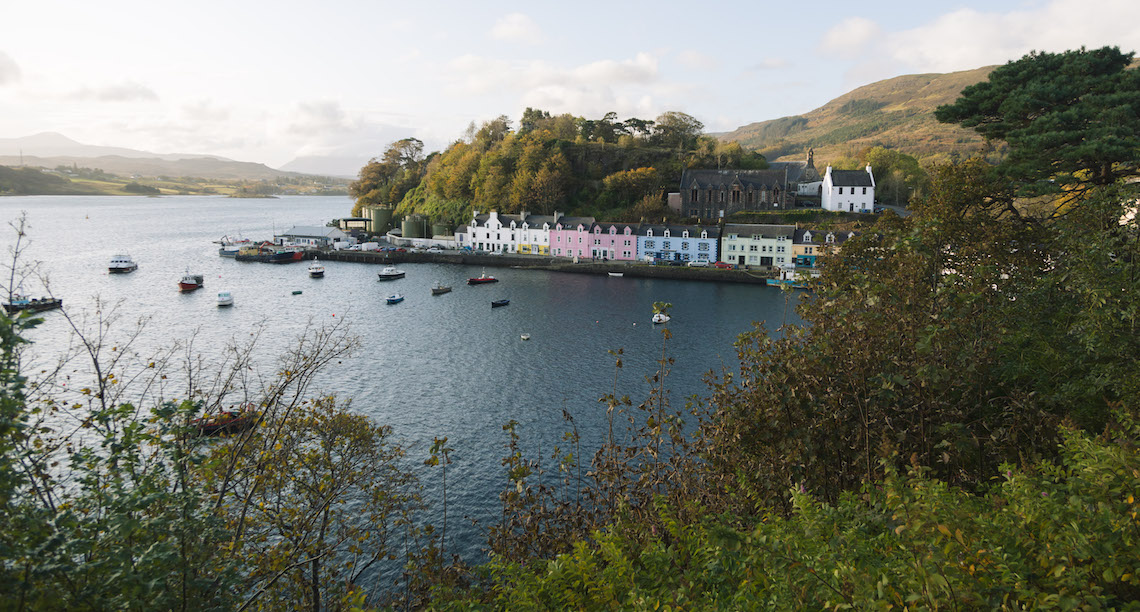 We decided to be pretty much self-sufficient. It meant carrying everything that we needed; tent, sleeping bag, food, and first aid kit as just some of the bare essentials, so our bags certainly weighed a few kilos. It did however mean we were able to camp in some lovely areas, and sometimes under the stars. With Skye being fairly far north in Scotland and the nights drawing in during October, there's even the slight chance of witnessing some Northern Lights. These are however few and far between. But you never know…
The route itself is split up into seven stages, which can take 7-8 days to complete. It is arduous in places, but overall pretty easy going in terms of length and duration, with the average walking day being eight and a half miles, excluding the Trotternish Rigde.
The seven stages of the Skye Trail
Stage 1: Rubha Hunish to Flodigarry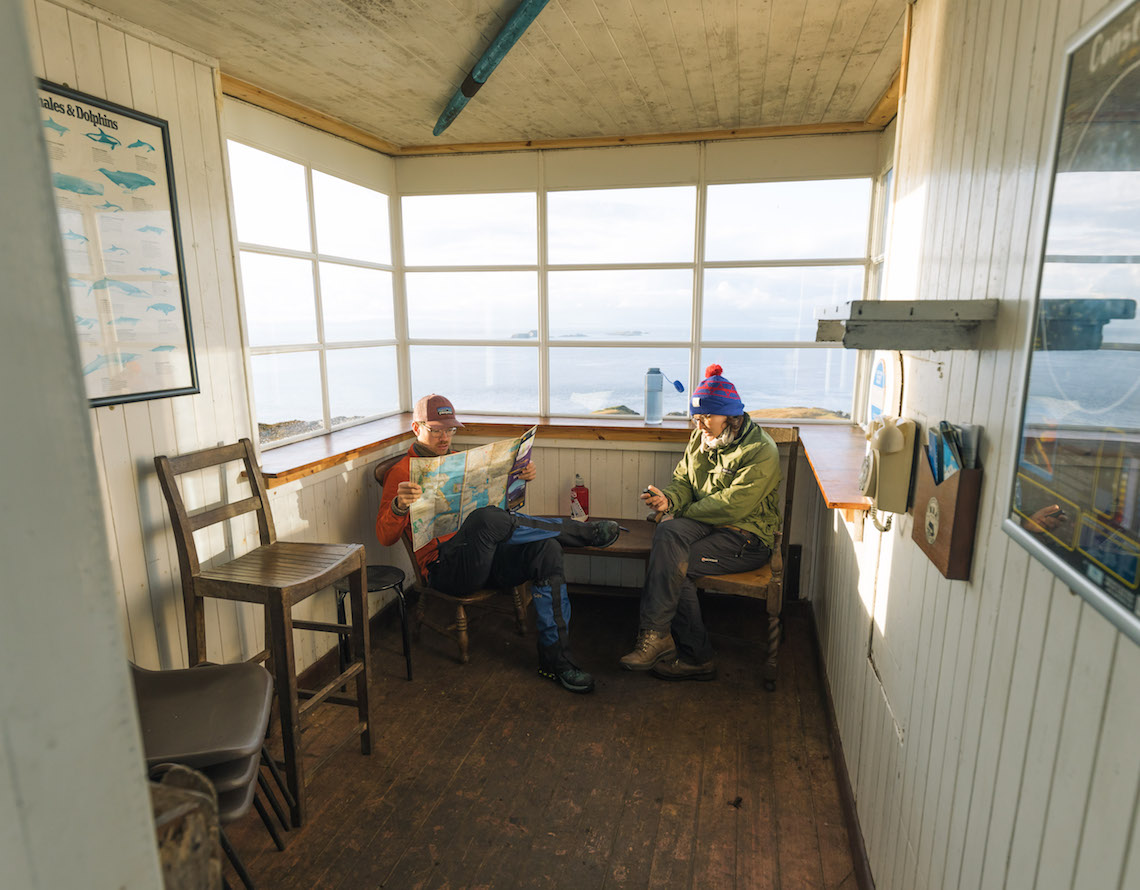 This stage starts at the far north of the island, where an overnight at the Lookout Bothy is a possibility should it not be too busy. The section takes in some lovely coastal sections with an admiring view looking back north and over to the Quairaing.
Stage 2: Flodigarry to The Old Man of Storr via The Totternish Ridge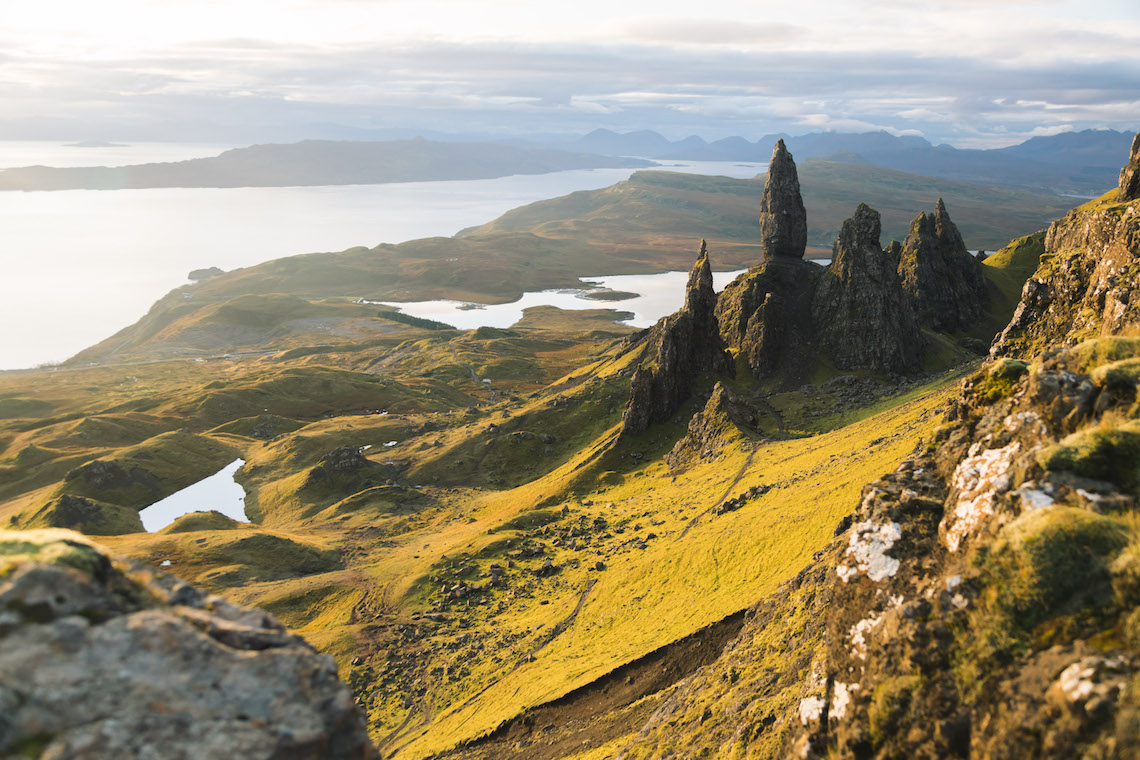 Arguably the hardest stage of the entire route. This is the only section that may be worth splitting up in to two days. It's nearly 18 miles in length and encompasses eight different hill tops as well as the spectacular view that is The Old Man of Storr. It's a tough hill walk, especially loaded up with equipment, and it requires good navigational skills should the weather draw in. It's highly exposed with few features to navigate from and very little shelter around. This is why this particular section could be split into two by those who think the route may be quite challenging, with an overnight on the ridge rather than to go all out, as it's recommended to leave 8 1/2 – 10 hours to complete. Speaking from my experience, walking poles would also be highly advised.
Stage 3: Old Man of Storr to Portree via the coastal route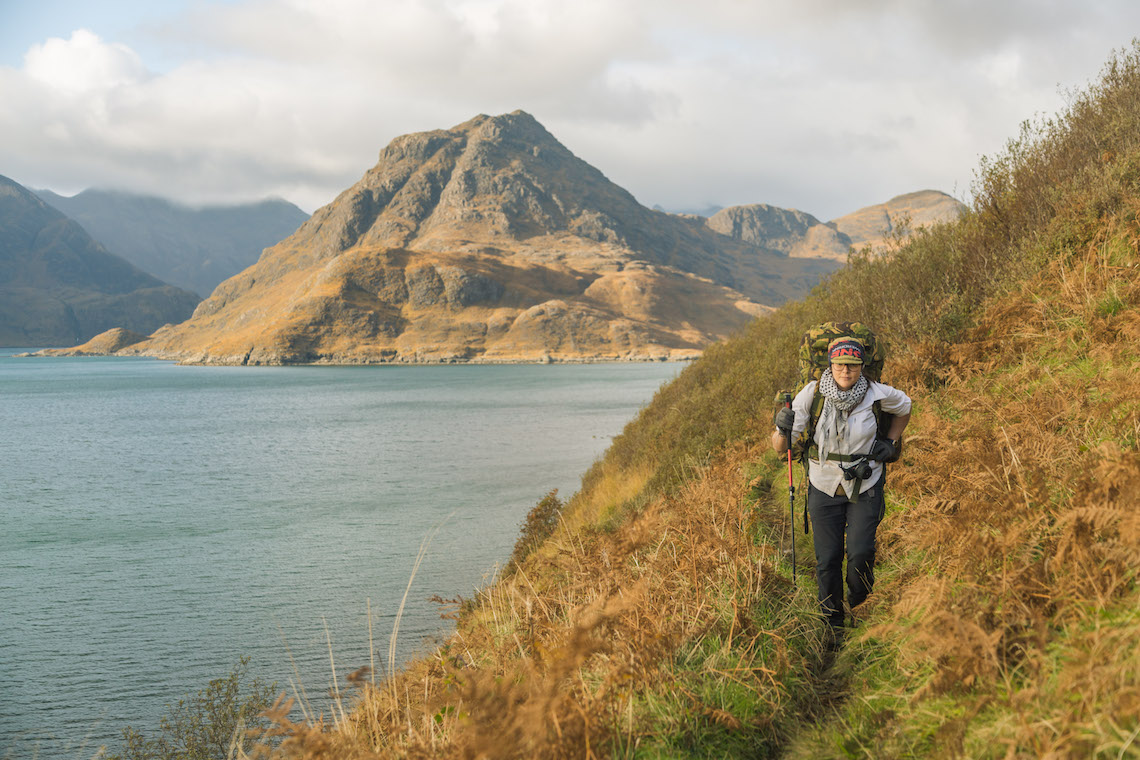 There is a possible route to go inland, but the coastal route is the recommended direction. It encompasses some great views looking out to the isle of Raasay and beyond, but can be extremely boggy in places, especially after significant rainfall.
Stage 4: Portree to Sligachan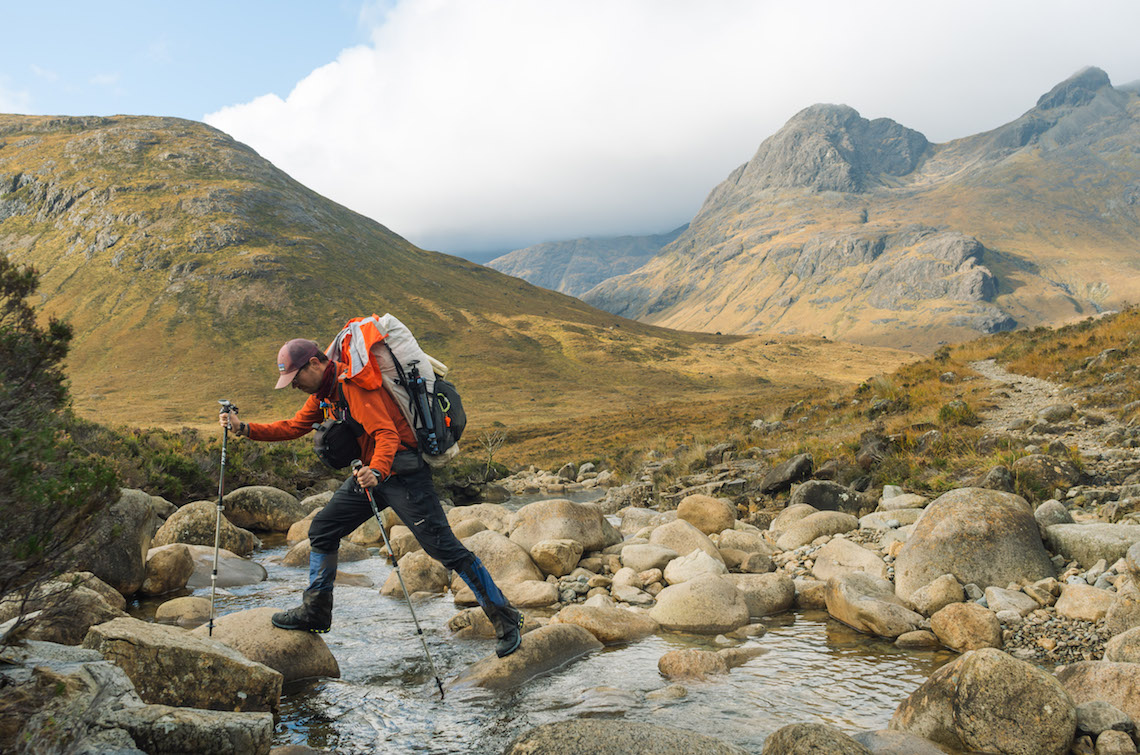 This is a simple stage, following some minor roads and paths. There is however, a river crossing, which, if in full flood, can be impassable.
Stage 5: Sligachan to Elgol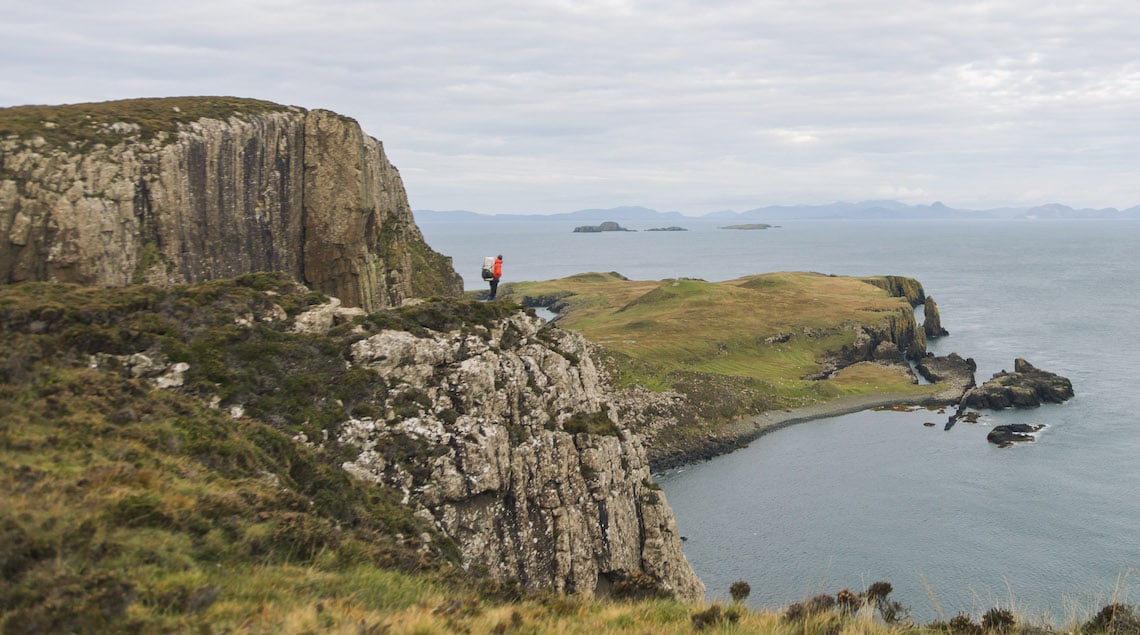 A relatively simple stage with a well-maintained path, walking amongst the surrounding hilltops towards Camasunary Bay that would be gorgeous in the sunshine. Making your way to Elgol by an exposed cliff top path overlooking the mighty Cuillin ridge. It's almost impossible to not stop and admire the view.
Stage 6: Elgol to Torrin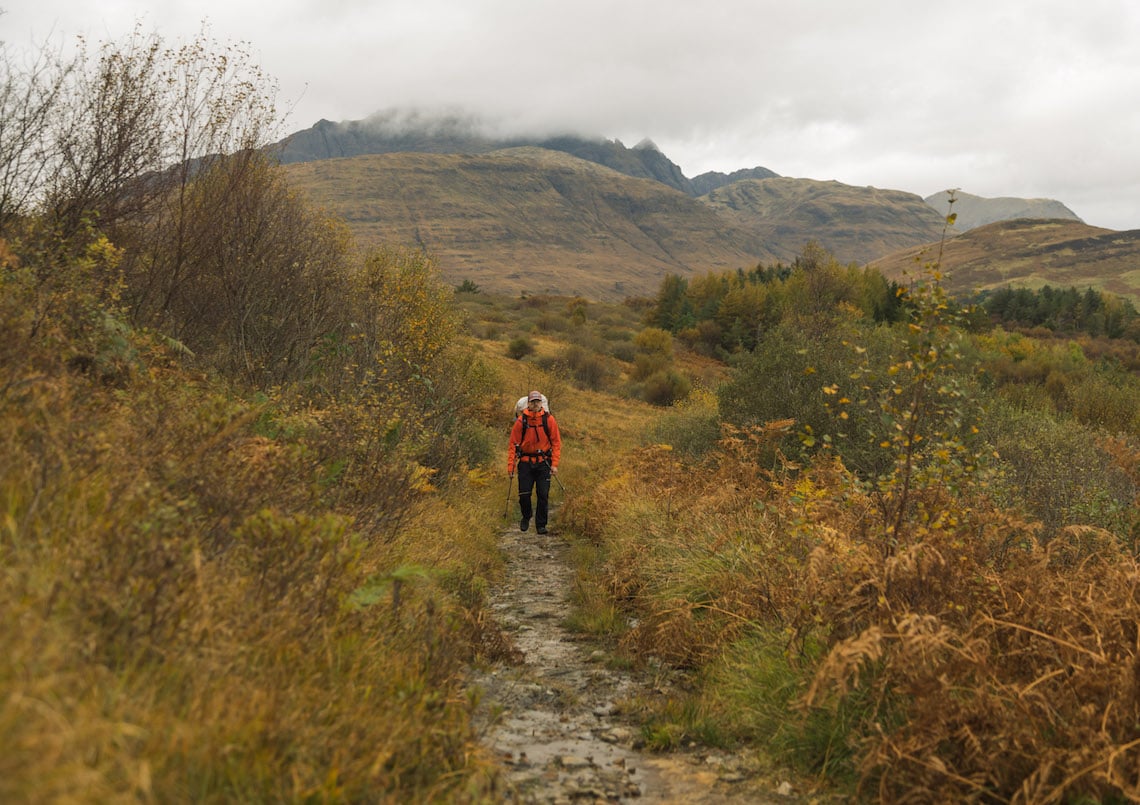 Another simple stage following paths and minor roads, admiring the coastal views and the potential for some seal spotting in calmer weather.
Stage 7: Torrin to Broadford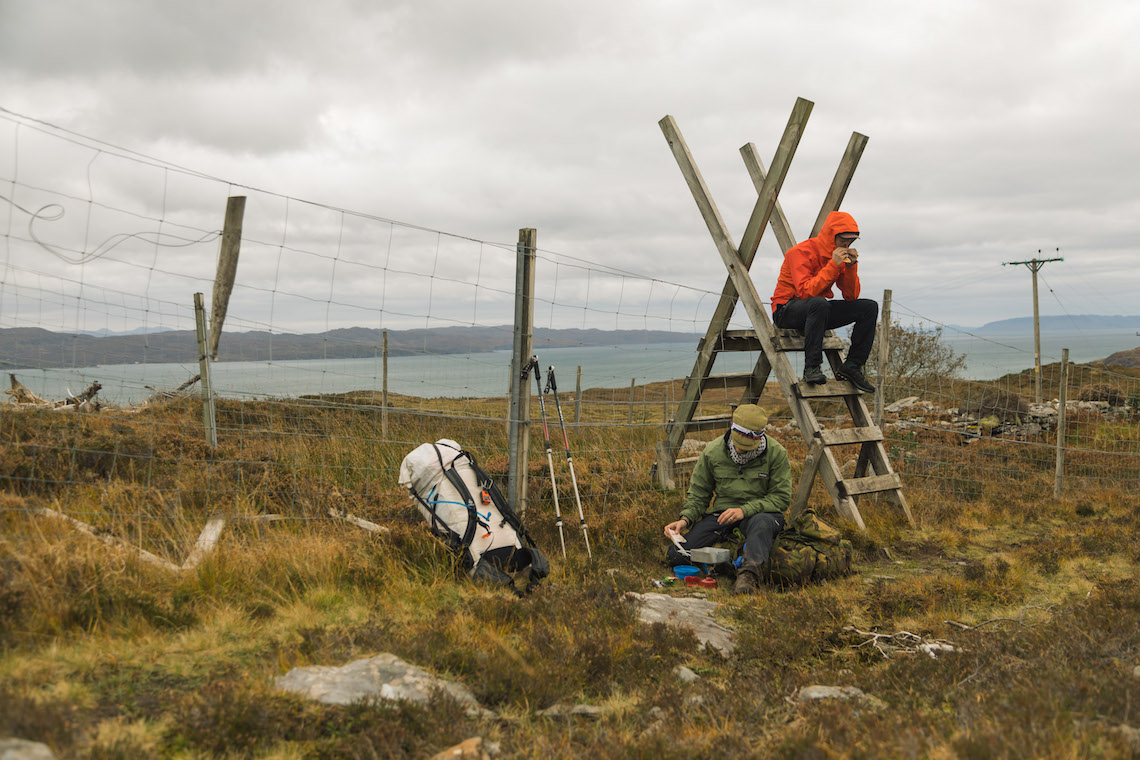 This section takes in some cultural history of Skye by passing old abandoned settlements that were cleared during the Highland Clearances. From here, it's a simple walk to Broadford, where well-deserved fish and chips can be bought.
For those who may want a more challenging, but potentially more spectacular route, there is the option for a different way for Stage 6. Instead of heading round the coastline, hikers could choose to overnight in the Camasunary bothy located not too far along the shore line in Camasunary Bay. From here, it's a challenging seven miles towards Torrin via the 928m summit of Bla Bheinn – one of the Munros on the island. The route is exceptionally rocky in places with potentially some scrambling, but the views looking out are some of the best on the island.
The Quairaing and The Old Man of Storr are certainly sights to behold. No wonder they're now such a tourist attraction, both of which are encompassed along the route. It's understood that the three pinnacles of The Old Man of Storr and the rocky features in the Quairaing are the remnants of an ancient landslide, potentially one of the biggest within the UK. Fossils are also not uncommon to find, with some of the oldest rocks in the area dating back to the Jurassic period 150-190 million years ago.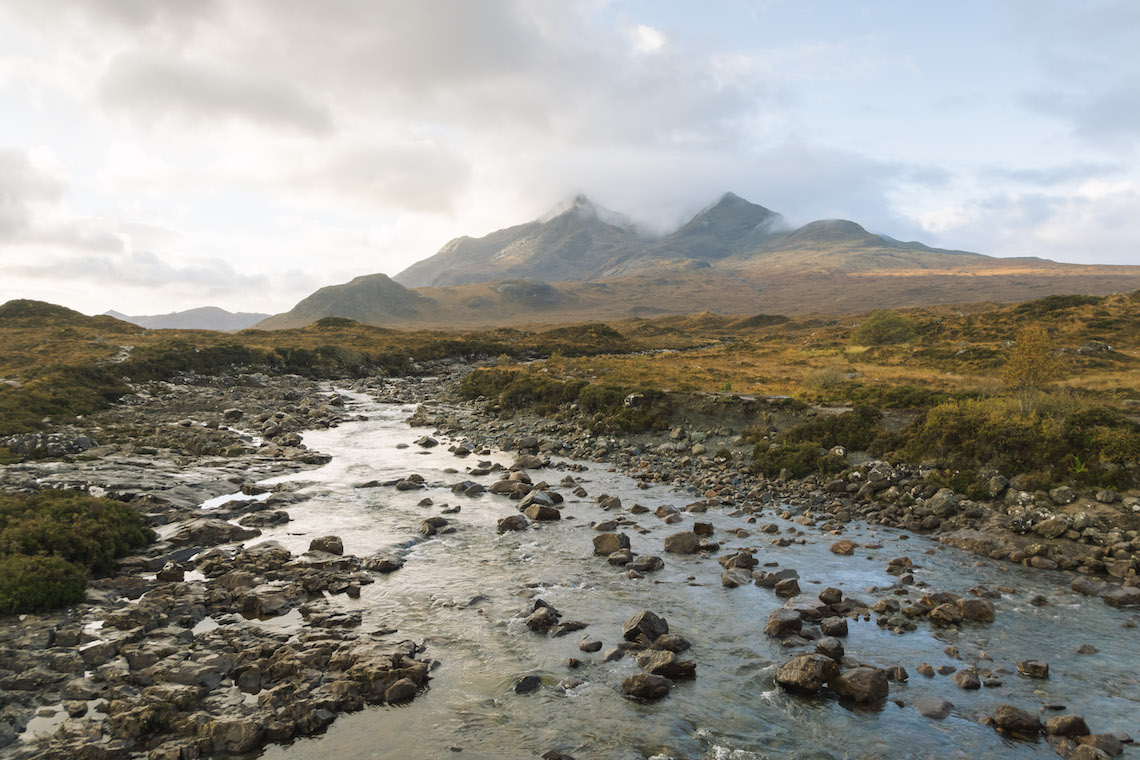 Walking amongst the rugged, weathered towers and features certainly does make you think, and you can't help but stop often to take in and enjoy the surroundings. Although the route around these areas may be well-defined, it is still however not your average walk. During wetter periods, it's not uncommon for some areas to be extremely muddy and boggy, with potential slips and accidents more likely, so appropriate footwear is advised.
The trail is not short of varying wildlife to enjoy either. Various coastal birds and seals can be spotted among the coastal sections, and if you're very lucky, perhaps a whale or two from the Lookout Bothy. Not to mention many highland cattle and sheep that you'll be passing along the way. For those who know, many different plant species can be noted that can spring up at varying times of the year.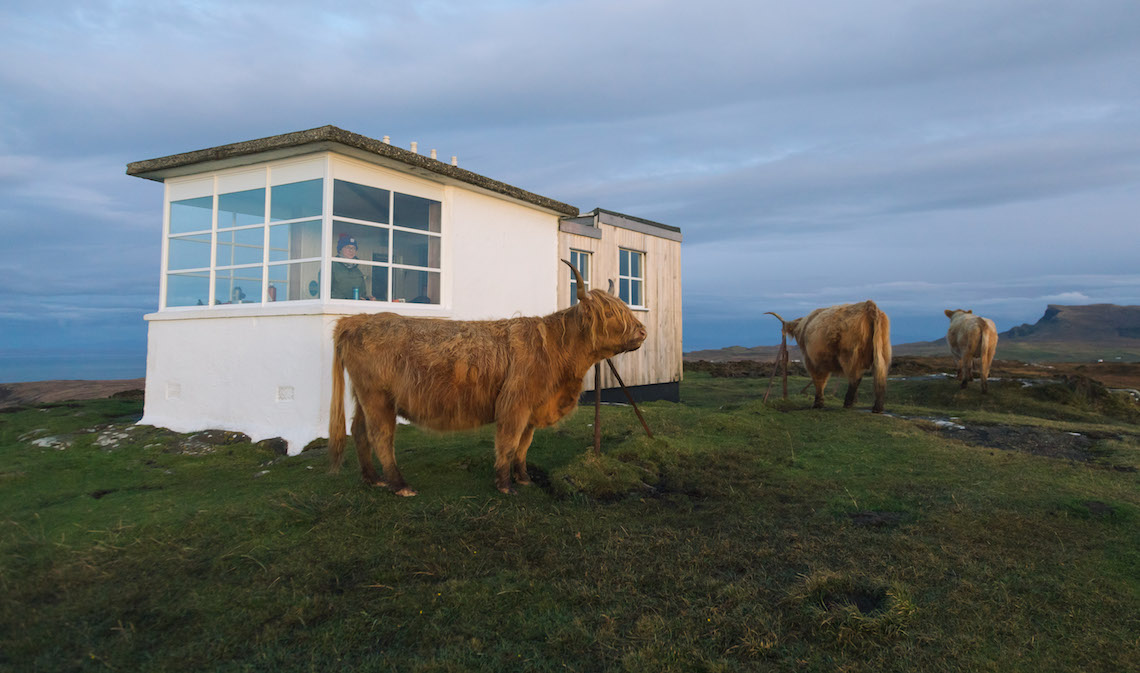 However, hikers should be mindful of creatures of the tiny kind. During the summer months, midges are prolific and can be an absolute pest, so precautions need to be taken to reduce their annoyance such as net hats and shirts. The other main culprit to look out for is the tick. These tiny biters are abundant during the summer months and wandering off tracks through long grass significantly increases the chance of having some extra hitch hikers along the Skye Trail. This is why a daily inspection is recommended to make sure any potential fresh biters can be removed and any areas that have been bitten, monitored for the potential infection of Lyme Disease. A tick removing tool is an essential, as incorrect removal does not always mean you have reduced your risk of infection.
I've hiked in a few places around the world including New Zealand and Iceland, but I think Skye certainly ranks highly. It had been on my 'To Do' list for quite sometime, and certainly didn't disappoint. The Scottish weather played a big part – to the better, in my opinion.
Having been to Scotland in both summer and winter, I think the autumn and winter months are some of the better times to go. Yes, the weather is more unpredictable with fewer daylight hours compared to that of summer, but in my eyes, this is what makes the country more magical. Passing rain showers with bursts of sunshine, mountain and hill tops disappearing and coming back in to view with the ever-changing shades and sizes of the mystical clouds. Not to mention the fact that I've seen more rainbows in one week during this hike than I probably have during my entire life.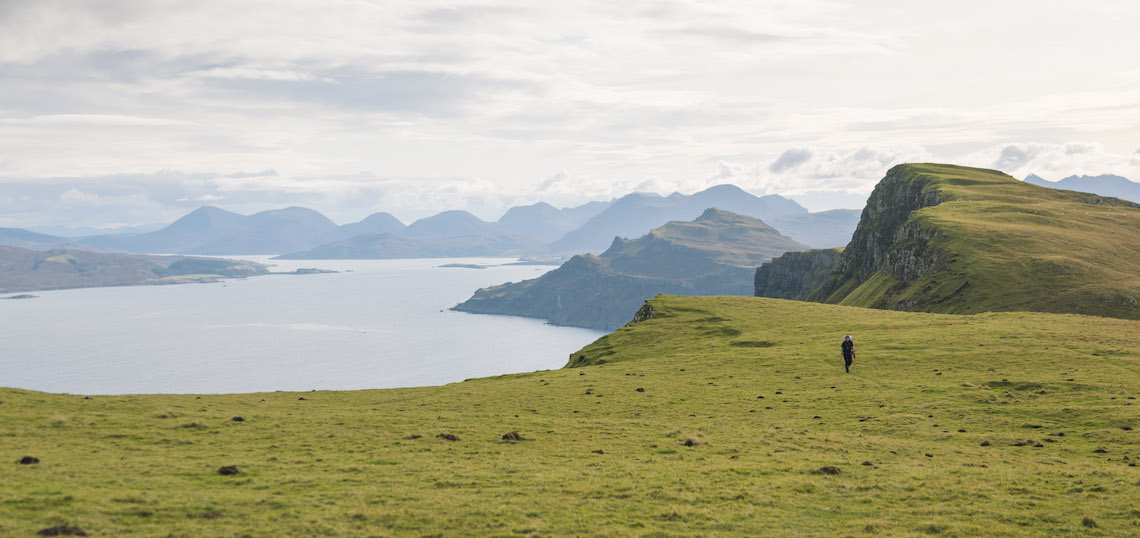 This really is what makes Skye so special! I'm sure many people love the glorious sunshine that summer entails, but I don't think I could have picked a better time to head out and enjoy the incredible landscape of the Isle of Skye.
My time on the trail was thoroughly enjoyable, taking in almost everything Skye has to offer; the varying weather, the epic scenery and living out of a tent for a week. It's certainly not something I can do everyday living in London. With easy access links to some of the major cities in Scotland, the Isle of Skye and its trail is a feasible option for a week-long adventure.
So, if you're looking for a uniquely Scottish adventure, don't mind getting a bit muddy and dirty (because undoubtedly you will), and a trail to hike that isn't incredibly long in order to take in the atmosphere at your own pace, the Skye Trail is certainly a route for you.
The Skye Trail: How to hike it yourself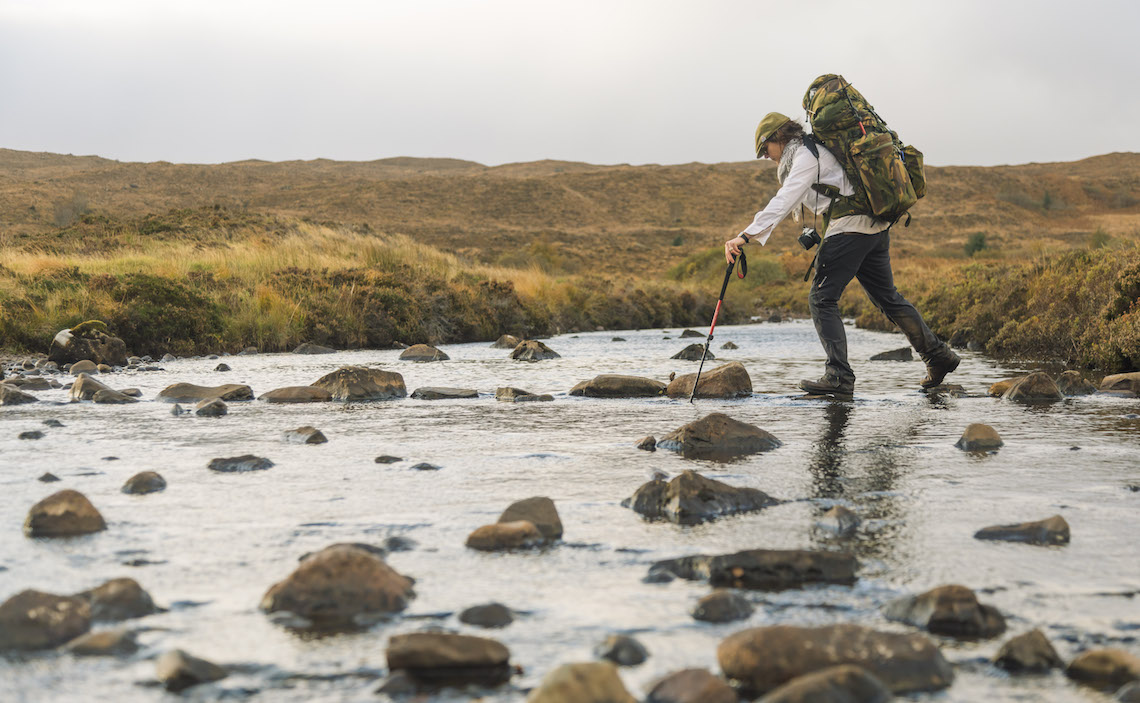 The trailheads for the Skye Trail are found in Rubha Hunish in the north and Broadford in the south. It's advised to pick a start route, which is normally north to south, and park your vehicle, should you have one, at the end. With this done, you can then catch a bus to the start location. This would take approximately a few hours to do, so leave plenty of time. Another reason to start north to south is that it's only a short walk in to the Lookout Bothy, which is near the start.
When to go
The trail can be hiked roughly late march to October, with longer daylight conditions in the summer. However, midges may be a pest during the summer months. It could be done in winter, but only by those who feel experienced enough with the relevant equipment.
How tough is it?
Experience wise, it's suggested that, as in my piece, those with good enough hill walking and map reading experience should hike the route with no problems. Although it can be easy to navigate in places, others may not be should the conditions get worse and visibility become poor.
What gear do I need?
Gear wise, it doesn't need to be fancy or branded. Waterproofs are essential as the weather can change quickly. If it does the job, then go for it. As long as you can carry it!