One climber is dead and three remain missing on K2 following a number of summit bids on Friday.
On a day that saw freezing temperatures and increasingly quick winds, Bulgarian climber Atanas Skatov fell to his death while most other climbers from the SST expedition quickly abandoned their summit bids after reaching an altitude of around 7,600m.
A party of four climbers comprising Icelandic climber John Snorri, Chilean climber Juan Pablo (JP) Mohr, Pakistani mountaineer Muhammad Ali Sadpara, and his son Sajid Sapara, decided to push on for the summit.
When Sajid was forced to turn back at the notorious Bottleneck, a technical section below a looming serac at 8,200m, the other three climbed on. It was the last time the trio were seen or heard from.
At 8,611m, K2 is the world's second-tallest mountain, and one of the deadliest.
Three days and several helicopter searches later, there's been no trace of the missing three, and hope for their safe return is fading fast.
What happened over the weekend?
After the historic first winter ascent of K2 a month ago by the 'K2-10', the group of 10 Nepalese and Sherpa climbers who reached the summit, more climbers prepared for their own summit bid on Friday, looking to make the most of a brief lull in the weather.
Reports remain vague but, according to trusted sources, most climbers gathered at camp three (around 7,400m), where a lack of tents meant up to six were crammed in three-man tents as they prepared for summit day.
With temperatures lower than the previous successful summit day and winds stronger, conditions proved to be too much for most, with all climbers and sherpas from the SST team, aside from JP Mohr, turning back, many suffering from frostbite. It was during their descent that Skatov fell to his death, the second confirmed death on K2 this season, reportedly while switching from one fixed safety rope to another.
However, John Snorri's team, who had been acclimatising on the mountain the longest, continued on and were joined by JP Mohr. Snorri had been climbing with a tracker but it appears to have malfunctioned due to the extreme cold, with it reporting rapidly changing altitudes throughout Friday until it stopped working completely.
When the group reached the Bottleneck, Sajid's oxygen regulator also experienced issues and he was forced to head back to camp three, where he rested while waiting for the trio to return. Sadly, his contact with the group at the obstacle was the last time the climbers were seen or heard from.
In an interview with Pakistani news, Sajid stated that he believed the trio would have managed to summit, with an accident occurring on the descent, particularly as the winds began to noticeably pick up in the night. Helicopter flights up to a maximum altitude of 7,800m have failed to spot any signs of the climbers.
After three days of inhospitable conditions in what is known as the death-zone, the altitude where the oxygen pressure is simply insufficient to sustain human life and the human body begins to slowly die, and no sign of the trio from the air, the chance of a miracle on K2 seems unlikely
Nevertheless, the mountaineering community is a close one and rescue teams remain on the mountain in an attempt to recover the climbers and provide some closure for their families.
Our thoughts are with all of those affected by the events on K2 this weekend.
Get up to speed with what's happened on K2 this winter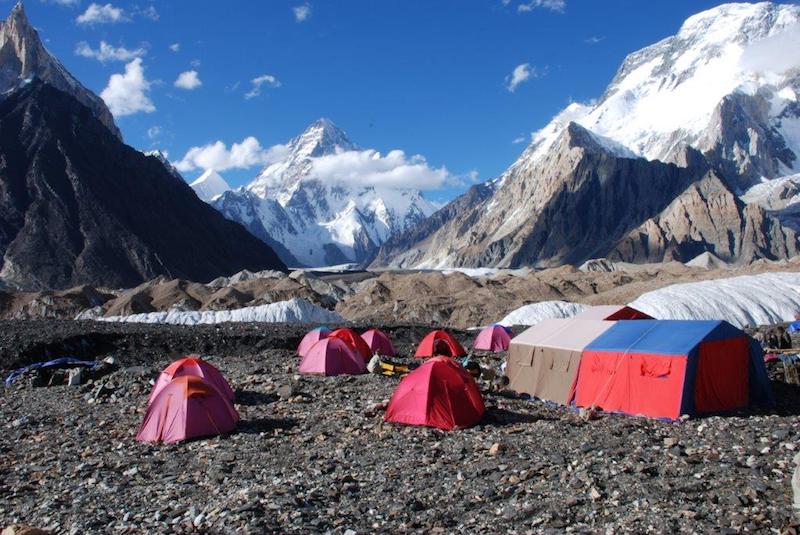 The first winter summit of K2 was one of the last milestones in high-altitude mountaineering. A notoriously difficult and deadly peak to climb, more people have been to outer space than have stood on top of the world's second-tallest mountain, which reaches a height of 8,611m.
And, before this season, none had done so in the winter months, mountaineering's hardest season, when temperatures can plummet to -62°C and wind speeds can top 100mph.
However, three groups sought to change that, gathering at the base of the mountain in late December. Find out the background of all three expeditions HERE.
In mid-January a 10-man team of Nepalese and Sherpa climbers, led by 'super-human' mountaineer and ex-Gurka Nims Purja, reached the 8,611m summit. Read the story of that historic first HERE.
But what is it that makes winter in the Karakoram Mountain Range, where K2 is located, just so tough for climbers? To put things into perspective we found THIS short film, simply named Cold, of athletes Simone Moro, Denis Urubko and Cory Richards (who shot the film) climbing Gasherbrum II, located close to K2, for the first time in mountaineering's toughest season.