TOUGH SHOES TO FILL
If Cinderella taught us anything it's that the right pair of shoes can change your life. Before you hit the trails this summer, check out our pick of this season's best hiking footwear, to guarantee you'll have a ball…
If you're going hiking, scrambling, or doing a via ferrata, you've got good reason to be wearing a pair of hiking shoes. In a lot of cases, they're more comfortable than boots, they weigh less, and they've got the added benefit of being able to double up as your everyday footwear when you're not on the trails.
In summer, when temperatures rise and sweat starts to drip, full-on hiking boots can often be overkill for gentle trails and low-level bimbles, and that's where shoes come in. When buying hiking shoes, or any other footwear for that matter, getting the best pair all comes down to one thing: fit. There are other factors to take into consideration for sure, but fit is the single most important one. If your shoes don't fit properly, you'll be in for a miserable time.
An ill-fitting shoe will provide less stability and comfort than one that's the right size, and the chances of getting blisters will be high. Hikers can be reduced to nothing more than sobbing lumps of waterproof clothing if their heels have been eroded away by rubbing shoes. At best, blisters are a pain in the heel, at worst they can ruin a hiking trip; we've seen blisters go down to the bone. So, it's vital that you try on hiking shoes before you buy, whenever possible.
Aside from fit there are a few other things that you should look for. A good tread is essential in ensuring sufficient traction. Think of a 4×4 car when it comes to this — deeper treads will work better in muddy conditions. Hiking shoes should also provide enough protection and support for the level if hiking/scrambling you're going to be using them for. Support's provided largely by the midsole, which is the bit sandwiched between the sole and the footbed, like the filling in a sponge cake. The more rigid the midsole, the more support it'll provide your foot.
Protection is also provided through toe caps (the harder they are, the more protection they offer), heel cups (again, the harder they are, the more protection) and from things like toe bumpers and high rands. Generally speaking, the more rigid a shoe, the better it is for serious use on harder terrain. But just because a shoe isn't rigid it doesn't mean it's useless. Softer, more flexible footwear will be more comfortable to wear than its clumpier brethren.
---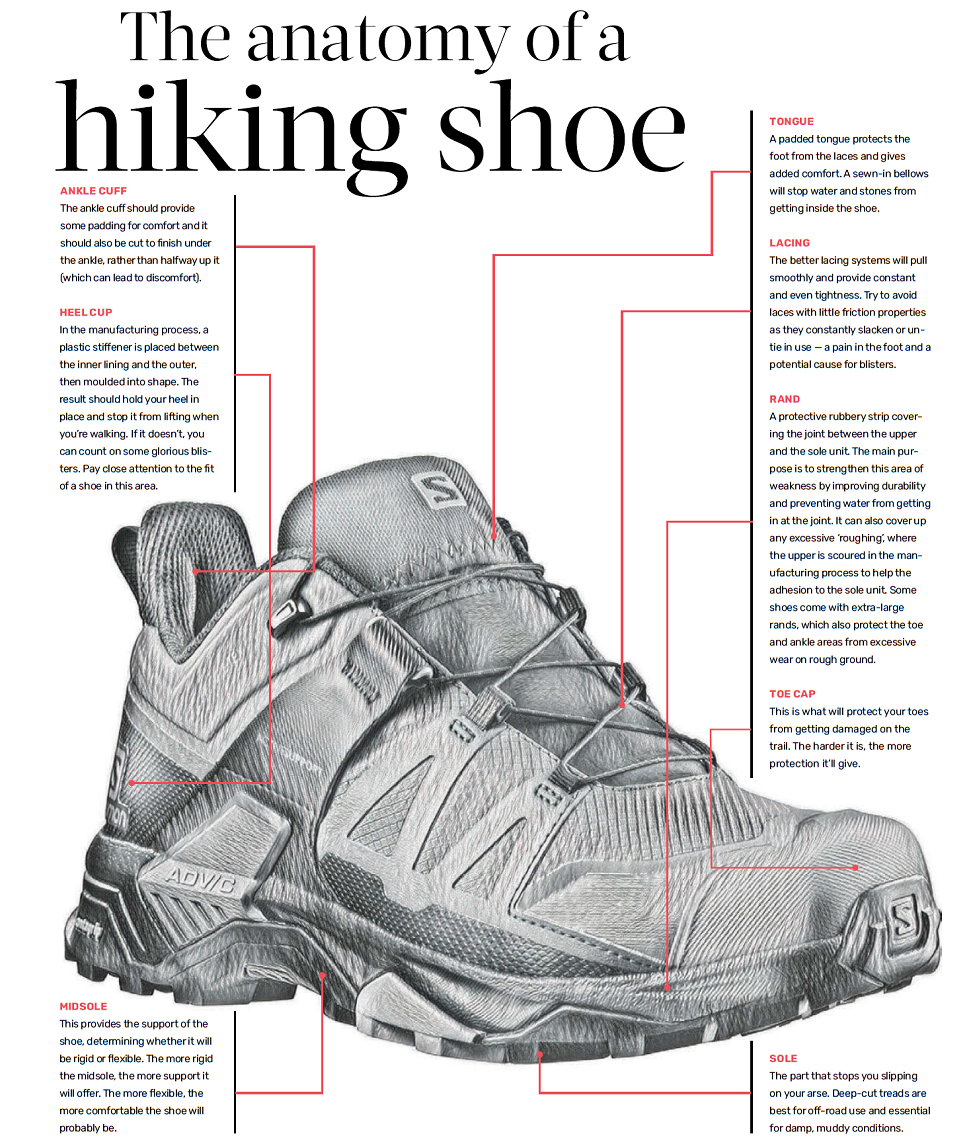 ---
MEN'S HIKING SHOES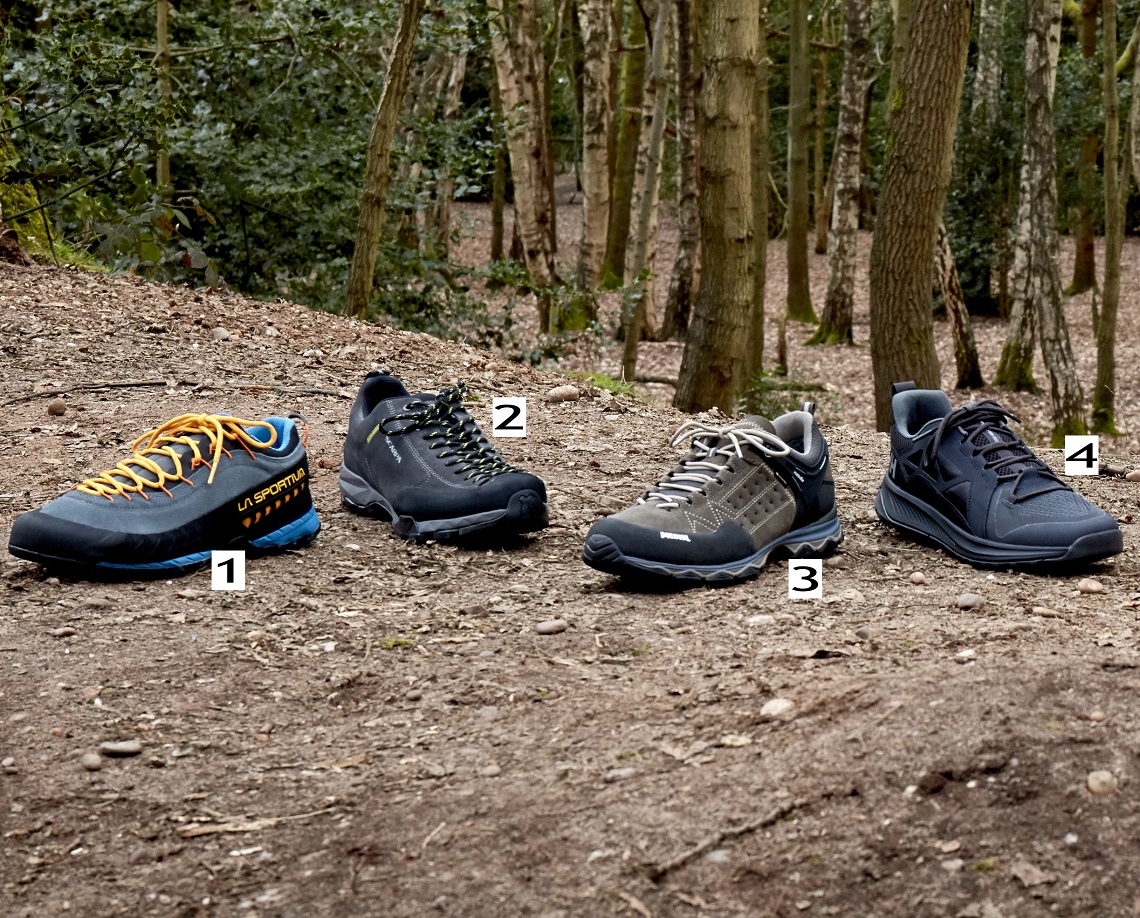 1 – BEST FOR TECHNICAL APPROACHES
La Sportiva TX4
RRP £130 www.lasportiva.com
A true approach shoe in all senses of the term, the La Sportiva TX4 has been designed to be used on everything from technical routes to via ferratas or hikes. This intended use is evident in the TX4's looks and design, with a number of features standing them in good stead to take on the demands of rocky trails. A non-slip lacing system extends to the toes, allowing you to get a comfortable, supportive fit throughout, a substantial rubber rand provides ample protection from bumps and scuffs, and there's plenty of torsional stability to keep your feed supported on uneven terrain. The Vibram MegaGrip sole, too, has been designed to keep you upright on rocky ground, and it has a climbing zone at the front and a Trail Bite Heel to enhance downhill grip.
2 – BEST FOR DAY HIKES AND CITY BREAKS
Scarpa Mojito Trail GTX
RRP £160 www.scarpa.co.uk
Scarpa markets the Mojito Trail GTX shoes as a low-cut waterproof shoe that's perfect for country walks and urban exploration. But I think the brand's doing the Mojito Trail a disservice with that description. They're not as 'hardcore' as the La Sportiva TX4s, but the Mojito Trails will suit you perfectly well on low-level mountain trails thanks to a combination of a quality, grippy Vibram sole and down-to-the-toe lacing which allows you to get a snug and precise fit. These will run warmer than non-waterproof shoes thanks to the inclusion of a Gore-Tex lining, but you'll be thankful for it when you're trudging through puddles or you get caught out in the rain.
3 – BEST ALL-ROUNDER
Meindl Ontario GTX
RRP £157.50 www.meindl.co.uk
Meindl boots and shoes come highly recommended in the Wired For Adventure offices, and for good reason. The German manufacturer consistently puts out top-quality footwear, and the Ontario GTX stays true to form. The Ontario GTX shoes manage to offer a very good combination of comfort and support, making them ideal for low-level hikes and urban adventures. The Gore-Tex lining will keep water out and the sole unit provides excellent grip on dry and compact trails (though it'll struggle in thick mud). A tough rubber rand around the toe area will protect from bumps and scuffs, while the Variofix lacing system allows you to get a great, supportive fit.
4 – BEST FOR WARM WEATHER HIKES
Helly Hansen Gobi APS
RRP £90 www.hellyhansen.com
The Gobi APS is a lightweight hiking shoe that's ideal for warm weather use on easy trails. Featuring a long list of Helly Hansen's own technology, the Gobi APS has been designed to offer maximum ventilation and breathability. As such, you won't find a waterproof lining here; instead, the shoes make use of a light and airy fabric that's also quick drying. It makes for a wearing experience that's comfortable and ideal for summer strolls. In fact, the Gobi APSs feel more like a pair of trainers than a hiking shoe, which is no bad thing if that's what you're after — just keep this in mind if what you're looking for is a protective approach shoe for mountain use.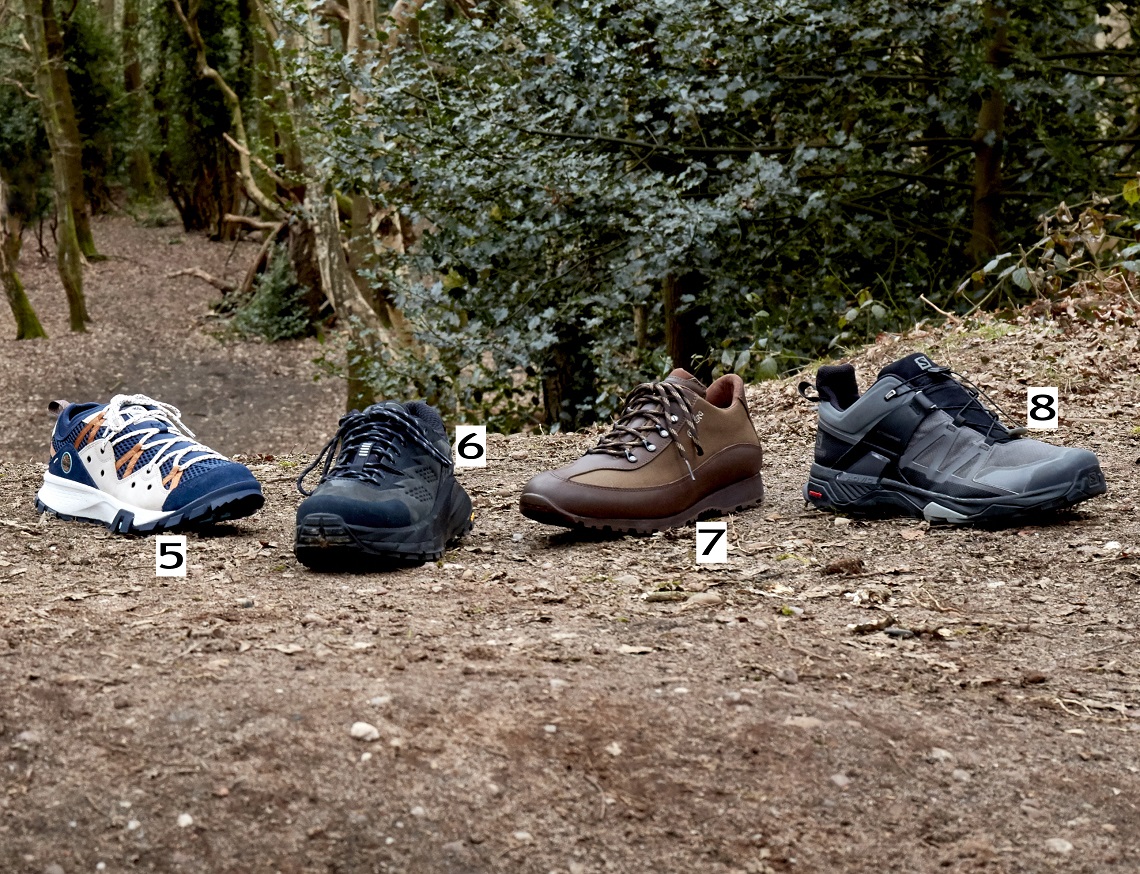 5 – BEST FOR URBAN ADVENTURES
Timberland Garrison Trail Low
RRP £100 www.timberland.co.uk
With an upper made from eco-conscious Better Leather and ReBOTL fabric, which is produced from recycled plastics, the Timberland Garrison Trail Lows are our kind of shoes. Timberland calls these 'low hiking sneakers', and I'd definitely agree that these are more 'sneaker' than shoe. They're soft, they're flexible, and they're not going to offer you a great amount of underfoot support if that's what you're looking for. What they do offer, though, is an abundance of comfort that's present from the moment you slide into them (there's no need to break these in), and a wonderful amount of ventilation that makes the Garrison Trail Lows ideal for easy hikes and urban adventures in warm weather.
6 – BEST FOR TRYING SOMETHING NEW
Hoka Kaha Low Gore-Tex
RRP £160 www.hokaoneone.eu
With their oversized and squishy soles, Hoka shoes are instantly recognisable and offer an experience like no other brand out there. The Kaha Low, which is named after the Maori word for 'strength and support', is the brand's fully waterproof hiking shoe offering, which also features a Vibram Megagrip sole. All-day comfort is apparent straight out of the box, the Gore-Tex lining will keep your feet dry, and the unique sole system helps to make uphill slogs easier and downhill descents faster. The Hoka experience is one that you'll have to try first to see if you like it, so it's fortunate that the company offers a 30-day trial period: don't like 'em, send them back and you'll get a refund.
7 – BEST FOR BUYING BRITISH
Altberg Samarkand Shoe
RRP £159.99 www.altberg.co.uk
With an upper made from a combination of military-grade Cordura and soft, full-grain leather, the Altberg Samarkand shoes have an aesthetic that'll divide opinions. Some will love the quirky styling and nod to the retro vibe and others will run for the hills on first sight. The Samarkand shoes were designed and created by Altberg's senior bootmaker who wanted to combine the features of a trainer with the classic styling of a leather shoe. Looks aside, one thing's for sure, the Samarkand shoes are expertly crafted and have a real quality feel about them. In use, they offer a firm ride and a decent amount of stiffness that sets them up well to provide all-day comfort.
8 – BEST FOR MOVING FAST ON MIXED TERRAIN
Salomon X Ultra 4 GTX
RRP £140 www.salomon.com
The Salomon X Ultra 4 GTX has been designed to provide stability, grip and waterproofing while also being light enough and agile enough to allow you to move quickly and unhindered. My favourite feature on the shoes is the Quicklace lacing system which allows you to get a snug, comfortable fit at the pull of a cord. The Gore-Tex lining keeps the wet stuff out with ease, though I found these shoes to be stuffy in warm conditions. The sole unit is grippy on all underfoot conditions, making the X Ultra 4s ideal for hiking on mixed terrain, and there's enough underfoot support to give you confidence when navigating over tougher, rockier trails.
---
WOMEN'S HIKING SHOES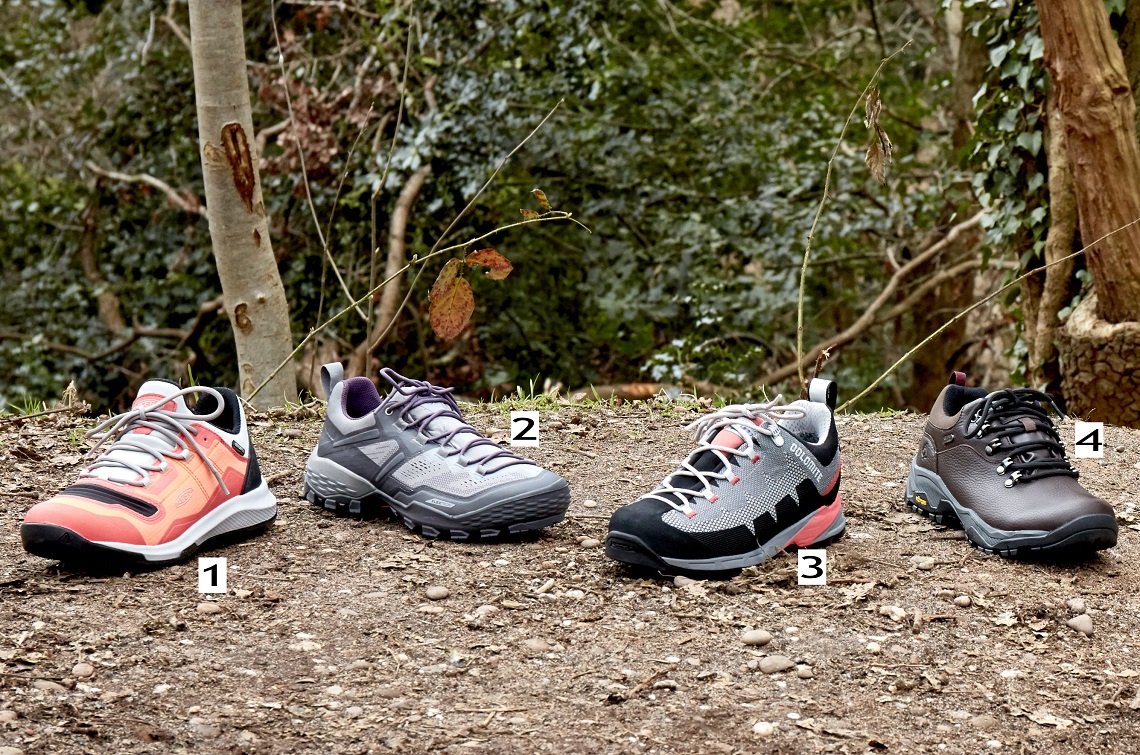 1 – BEST FOR MOVING FAST AND LIGHT
Keen Tempo Flex Waterproof Trainers
RRP £124.99 www.keenfootwear.com
Sliding your feet into a pair of Keen's Tempo Flex is not unlike donning a pair of slippers. The stretchy, padded tongue and collar hug your foot, so no amount of dust or trail debris can get in, while the stability shank and 4mm lugs provide just the right amount of support and grip to keep you sure-footed. Breathable, eco-friendly waterproofing is a welcome feature, as ever, as are the roomy, rubber-tipped toebox and rip-stop upper, which combine to make this one tough trainer. The main draw of the Tempo Flex, however, is Keen's Bellows.Flex technology, a rubbery concertina that sits along the toe crease, which not only works with the movement of your foot to make hiking more efficient, it also extends the life of the shoe by countering any splitting or cracking that can occur in this area over time. Very clever.
2 – BEST FOR HEAVY-FOOTED HIKERS
Mammut Ducan Low GTX
RRP £140 www.mammut.com
If you fancy a lightweight walking trainer with all the armour you'd expect to find in a traditional hiking boot, then the Ducan Low is a good bet. These are firm, snug-fitting walking trainers that will take a bit of breaking in, but once you've put in the work, they'll serve you well. The super-tough Flextron spring-steel soul with Vibram has a hiking-boot feel to it, giving you plenty of ground clearance and support, which should help you maintain good posture on the trail, while the Georganic 3D technology and elastic Gore-Tex tongue ensure the shoes follow the shape of your foot, giving them the trainer-like qualities you'd hope for in a lightweight summer shoe. If you're prone to kicking up rocks, tripping over tree roots and generally bumbling along in life, then these robust hikers will keep your toes intact.
3 – BEST FOR AT HOME AND ABROAD
Dolomite Steinbock WT Low GTX 2.0
RRP £175 www.dolomite.it
Leaning more towards being a shoe than a trainer as far as fit and feel go, the Steinbock WT Low GTX 2.0 are reassuringly sturdy with a high instep, making them an excellent choice if you're prone to rolling in on your ankles when wearing low-cut shoes instead of boots. These are still a good lightweight option for summer, though, and their waterproof, breathable properties and moisture-absorbing footbed make them especially well-suited for both wet UK trails and hot day-long hikes abroad (oh, we can't wait for those to be back on the cards again!). At £175 these are at the upper end of the price spectrum, but, as the name suggests, what you get for your money is a beautiful, Italian-crafted highend walking shoe that will make you smile every time you put them on.
4 – BEST FOR OLD-SCHOOL COOL
Craghoppers Kiwi Lite Low
RRP £110 www.craghoppers.com
There's no mistaking that the Kiwi Lite are Hiking Shoes with a capital 'S'… and a capital 'H'. These are traditional through and through from the waterproof full-grain leather upper to the deep-lugged Vibram outsole — and they certainly look the part. If you like the idea of going old-school then these are the shoes for you. Looks can be deceiving, however, and on closer inspection, there are a number of 21st Century mods that give the Kiwi the edge when it comes to tackling modern trails. The addition of a NosiLife polyester mesh helps keep the biting bugs away; the Eva moulded footbed and padded collar are almost pillow-like in their comfort offering, and despite their chunky appearance, the Kiwi lite are in fact very light indeed, weighing in at just 545g.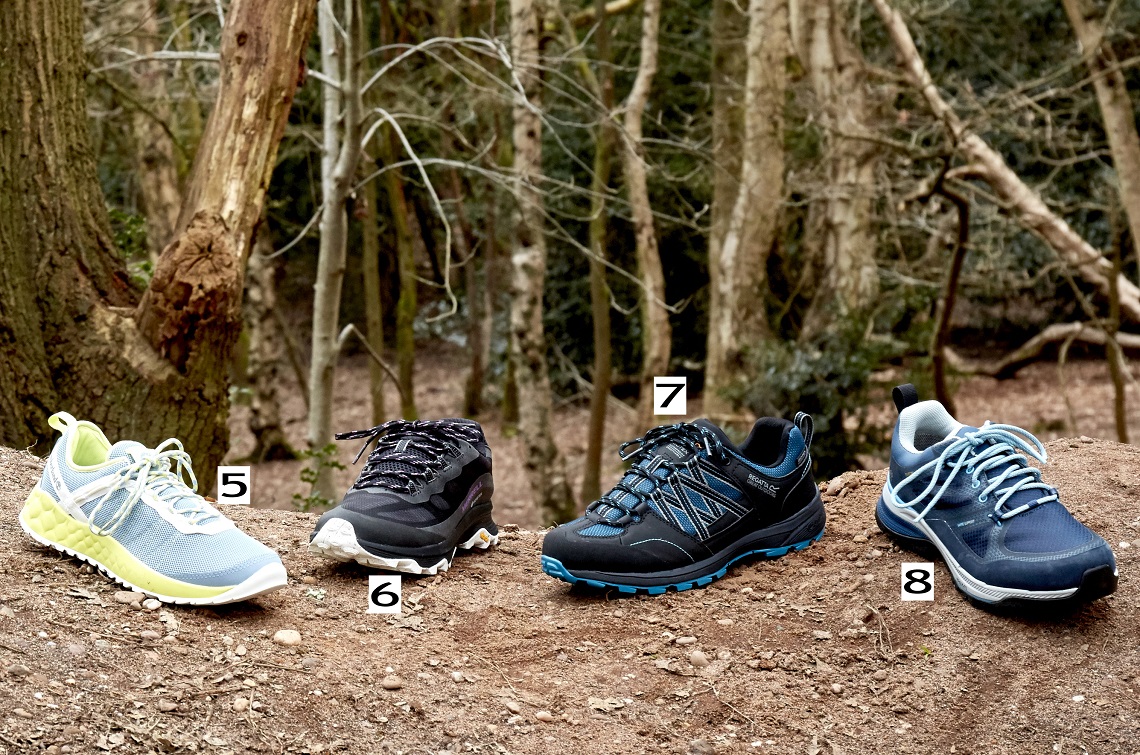 5 – BEST FOR URBAN EXPLORATION
Timberland Solr Wave Low Sneaker
RRP £100 www.timberland.co.uk
Adventures on foot don't have to mean week-long treks through the wilderness. Exploring urban areas is the perfect way to connect with local people and take in some culture. Just because you're pounding pavements instead of forging your own path, however, doesn't mean you should skimp on footwear. The Solar Wave Low Sneaker is designed for long days spent on your feet. The super-light, cushioned GreenStride outsole is made from 75 percent renewable sugar cane and responsibly sourced rubber while the super-stretchy ReBOLT mesh upper contains 50 percent recycled plastic, so they're eco-conscious, too. While you wouldn't want to take these trainers off-roading, they're ideal for summers in the city. (Just a heads-up on sizing: go half a size bigger than your usual shoe size.)
6 – BEST FOR DIE-HARD TRAINER FANS
Merrell Moab Speed
RRP £125 www.blacks.co.uk
If you're looking for an all-round summer shoe that you can just as easily pop to the shops in as you can eat up the miles on the trail, then the Moab Speed is it. Think of them as trainers on steroids. That's not to undermine the Moab's credentials as an excellent outdoor shoe; far from it. These vegan-friendly, eco-conscious beauties are packed with practical features including a breathable, waterproof Gore-Tex membrane, Vibram Ecodura lugs (made from 30 percent recycled rubber), a part-recycled mesh upper, and a rock plate that runs the length of the shoe, to help absorb impact. The FloatPro Foam midsole and supportive Eva insole also contribute to a super-comfy yet sturdy ride. Merrell describes the Moab as a 'lightweight, protective hybrid' shoe, and that's precisely what you get.
7 – BEST FOR BUYING ON A BUDGET
Regatta Samaris II Low walking shoes
RRP £90 www.regatta.com
Umm-ing and ahh-ing over whether you even need a pair of walking shoes specifically for the summer? Just buy these and thank me later. Whether you're new to hiking and are just looking for a sturdy shoe to get you off on the right foot, or you're old hat and simply need a spare pair to keep in the boot of the car, the Samaris II tick all the techy boxes for a very reasonable price — and i happed to think they look great, too. Lightweight, waterproof, breathable, with respectable lugs, a firm toe box and Eva cushioning, you'd be hard pushed to find these kinds of features for a better price. the only shortfall is the fit, which isn't as precise as some other shoes in this round-up, but for modest jaunts over field and fell, these will do the job nicely. Available in five colourways.
9 – BEST FOR BEING PREPARED
Jack Wolfskin Force Striker Texapore Low
RRP £130 www.jack-wolfskin.co.uk
It has to be said that these aren't the lightest shoes (a pair of women's size 6 weighs in at 820g) but what you get for those extra grams is a hiking shoe that will stand you in good stead no matter what the conditions are like underfoot. With all the flexibility and comfort of a trainer, the Force Striker offers exceptional stability and protection thanks to the forceplate at the toe end of the shoe, giving you great feedback from the ground up while keeping your feet safe, this, along with plenty of cushioning from the Reflex Foam midsole in the heel mean you can tackle whatever the trail throws up while still making excellent progress. The Texapore membrane is both waterproof and breathable, as you'd expect, and the Vibram lugs give good grip. If a short stroll turns into an all-dayer, then you'll be all set.