Put your wallet away! When NAHLA SUMMERS takes on a CHALLENGE, she wants SPONSORSHIP through ACTS OF KINDNESS
Nahla Summers has cycled 3,000 miles across the USA, walked 500 miles across England, and set the world record for longest distance on an *ElliptiGo — all in the name of kindness.
Nahla is speaking to me through a wired jaw. Four weeks ago, she came off her ElliptiGO while training for a 24-hour world record ride. It was 4.30 am and dark when a van startled her. She veered off course, took a tumble, and landed on her chin. Her injuries have put paid to her record attempt — for now, at least. Being unable to eat solid food puts a dampener on extreme physical challenges.
Not that Nahla has been taking it easy since. She's still running Sunshine People (the social movement she founded to highlight the power of kindness in transforming societies), making the last few tweaks to her new book, The Accidental Adventurer, and managing to hold down her speaking engagements, broken jaw and all.
Nahla has built up an extraordinary level of resilience thanks to all the adventures she's undertaken over the last few years. She's cycled 3,000 miles across the USA (having not owned a bike in 20 years), walked 500 miles across England relying only on the kindness of strangers, and set the world record for longest distance travelled on an ElliptiGO — 5,007 miles through all 68 cities in the UK. And to top off that last one, she also created the country's biggest Strava Art by writing 'kindness' between Newcastle and Northampton.
She hasn't always been this resilient. For 15 years, Nahla worked deep in the corporate world where, "everything stuck with me, everything bothered me." So, how did she get from stressed-out corporate leader to adventurer and social entrepreneur? It was never a path she planned to take, but when Paul, the love of her life, died of a heart attack during a charity bike ride in March 2012, Nahla took a long, hard look at herself.
"I didn't cope with Paul's death well. For a long time, I was in a terrible place. I would sob down the phone to my mum two or three times a day. I became really isolated and didn't want to leave the house Paul and I had lived in together. It was by the sea. You could step outside and be on the beach, but in those early days after Paul's death, I didn't go out there by myself. It was too heartbreaking. It was something Paul and I did together.
THE STRANGER ON THE BEACH
But one day, I did wander out onto the beach. I didn't look good. I'd lost a couple of stone in a very short space of time and I wasn't sleeping. I watched someone on a horse do a backwards figure of eight. It was mesmerising. A man with grey hair walking a dog appeared next to me and asked if the horse was mine. I said no. I didn't have the mental strength to say more.
My quietness didn't seem to bother him and he told me a story about how horses had huge healing powers.
'There's so much we don't understand about the world,' he said. There was nothing particularly significant about the encounter, but his story of positivity caused a profound shift inside me. He brought hope to me in one of my darkest moments. Even now, 10 years later, I can still feel the sense of lightness that came over me as he spoke.
HUMAN CONNECTION
Six months after that encounter with the kind stranger on the beach, I climbed Kilimanjaro for charity and I've done a challenge each year since. After Kilimanjaro, I climbed Snowdon. I went to Chicago and did a day walk with a friend. A 20-mile bike ride with a foster child of mine was particularly moving. They were all little things, small walks or runs, each year in Paul's memory. That was how my adventuring started.
My Kilimanjaro trek raised £14,000 but when I called the charity to ask how the money had helped, they said, 'Oh, it's just gone into the big pot.' I thought, 'No! That's not okay. There's something really missing about that.' That was how my mission to change the conversation about kindness started.
I set up Sunshine People to encourage others to share kindness and highlight the power it has to transform societies. Instead of sponsoring me with money, I ask people to perform an act of kindness. The more research I do and the more people I speak to, the more stories I hear of human connection making a real difference to people's lives.
I realised I was starting to really inspire people to make change and move the conversation from money to kindness. (Although when I first started, lots of people said, 'Uh, can I just sponsor you some money? Do I have to go out and do something?') Maybe I need to keep pushing this, I thought.
GO BIG OR GO HOME
Cycling across America was the first proper big adventure, followed by my 500-mile walk, and then the ElliptiGO challenge. After that last one, I kind of do feel a bit like an adventurer! On paper, I usually don't have the resources or fitness levels, but when people suggest an idea for a challenge to me, I figure it out and give it a go. I do these things to raise awareness, to start conversations about kindness. It's an elaborate hobby!
Moments of kind connections happen so often in adventuring. There are thousands of examples of extraordinary people who went out of their way to help keep me on the road. They shared their homes with me, fed me. One couple kitted me out with everything from a sleeping bag to Ibuprofen gel when I arrived on the ElliptiGO at an empty bunkhouse in the Yorkshire Dales. Someone else booked me into a hotel in Darlington just to make my life a little easier. When I was walking, some people turned up with a footbath for me; that's an act of kindness, but it's more than that, because they knew my feet were hurting. They showed empathy and asked themselves, 'What will she need?'
SHEER EXHAUSTION
It was human kindness that got me through one of the toughest moments of all my adventures. I was on the ElliptoGO travelling from Carlisle to Cairnryan to catch the ferry to Belfast. I had two days to cover around 120 miles and ended up hitting horrendous headwinds on the way round. I ran out of energy.
In truth, I was running out of energy a lot at that point, and finding things tougher and tougher. I couldn't carry on and ended up with 75 miles to cover the next day if I was to catch the 3.30 ferry — a struggle even on a good day (the ElliptiGO averages 10mph so it's not the same as a bike). To cut a long story short, I missed the ferry and had to get the 8 pm ferry, which meant I got to sleep at about 2 am. When I got up to start all over again four hours later, I was all kinds of exhausted.
Somehow, I made it up a hill out of Belfast but I felt physically sick. I had to stop. As I was looking out over the city and thinking, 'I don't know if I can do this,' a woman came up behind me. Giving up seemed my most likely option; sheer exhaustion was taking its toll. But the woman, Hilary, invited me to rest in her garden nearby. With Hilary's husband, we spent the next half hour (and several cups of tea) talking about how to make my day more manageable. Hilary and her neighbour even rode with me for a while. Their kindness made a profound difference to my mindset.
KINDNESS MATTERS
There are so many stories of how these moments of human connection supported me, but also the ripple effect of how they have helped others. Kindness is about standing in someone else's shoes and asking yourself, 'How is that person feeling?', even when that person has been a bit arsey with you.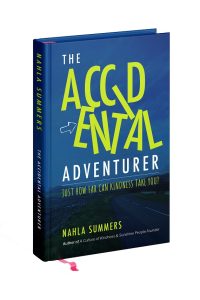 Perhaps they've got a tonne of other stuff going on, maybe they've got three children. Sometimes of course, they may just be an arse! But if you're able to try to understand why they reacted in a certain way, you're demonstrating kindness. It's about giving time, stopping and listening. Even when you're so busy in your own life. These interactions matter to people.
The first real sponsored act of kindness for Sunshine People came from my friend Fran, after I climbed Snowden. He had taken his son for a birthday event, which had been cancelled but they hadn't been told about it. His son was upset so Fran decided to treat him to a meal instead. They walked past a homeless man and my friend's son asked to give a few coins he had in his pocket to him. As they were walking away the boy asked why the man was homeless.
Fran remembered he had sponsored me some kindness so he turned to his son without much thought and said, 'Do you want to ask the man to eat with us?'
And of course, because his son was 10 years old and had no fear, he did. It turned out to be an extraordinary meal. Fran's son learned something that his dad could never teach him — there's only a fine line between the life the homeless man was living, and the life they were living — and they both got more from that meal than they could have ever gifted that homeless man in food.
As for my world record attempt, I will do it again but I'll be starting from scratch. It is what it is. Adventuring has given me that it-is-what-it-is attitude. But hearing Fran's Sunshine People story was when I realised that what I'm doing is important. Kindness is important. It can save lives, change the world for the better, and we need to talk about that.
---
Who's Writing?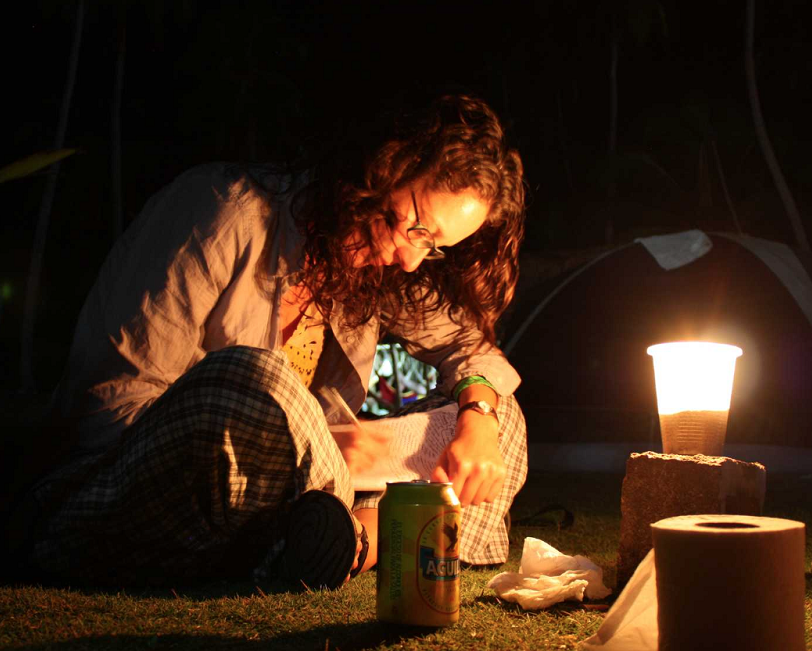 Emma Field is a travel writer specialising in UK travel and tourism. In the past, she's travelled overland from Holland to Singapore via Mongolia solo, then around the edges of India and from Rio to Winnipeg. Nowadays, epic overland journeys are harder to plan with two tiny routine-lovers in tow, so she mostly gets her kicks outdoor swimming, exploring the UK, and interviewing remarkable people who have made adventuring their way of life.