Farmer and MUSTO adventurer BEN ANDREWS is about to embark on a MYSTERY challenge. Armed with nothing but his wits and a bag of UNDISCLOSED kit, he's venturing into the PEAK DISTRICT and the unknown…
As I dangled over the edge of a sheer precipice, I became uncomfortably aware that a thin piece of cord rigged to a harness was the only thing stopping me from smashing myself on a bed of jagged rocks below.
The darkness of the cave swallowed everything. The only light came from our head torches and the reflections off the wet rocky walls all around us. Blood thumped in my ears, as loud as the crashing waterfall beneath my feet. It struck me that there's something primal and terrifying about the cave; you are completely at the mercy of nature. "Ready?" I heard a voice call from above my head. A sharp intake of breath, the slackening of rope, and my descent had begun.
As a farmer descended from a long line of agriculturalists, the English countryside is in my blood. Rugged and ever-changing, it's both my livelihood and the place where my husband Stevie and I have had some of our greatest adventures together. We first met through rowing and, ever since, we've relished time spent together outdoors. We've been to some incredible places but, Stevie being a doctor and me a farmer, we haven't been able to get away recently or even spend much time together.
When British performance clothing brand Musto invited us on a Mystery Kit Bag trip, we jumped at the opportunity, even if we weren't sure exactly what we were signing up for…
FEAR LESS, DO MORE
I had a feeling that something beyond my comfort zone might be in order with Musto's "fear less, do more" tagline and I wasn't disappointed. A few weeks later, two bags of Musto gear arrived at our door, inspiring a number of questions about where we might be headed.
The items that really intrigued me were the two-piece wetsuits. At this point, we still had no idea what our trip would entail. But it looked like it might involve getting wet. Armed with our kit bags, we packed up the Land Rover Defender and headed for the Peak District: a strange, wild place of barren outcrops, limestone dales, and weathered moors.
We arrived at North Lees campsite near Hathersage around 10 pm and any chance of seeing the stunning scenery of the Peak District had slipped away into the night. It hadn't rained all day but a heavy clag covered the site, soaking everything it touched. With the weather the way it was, anything non-essential for sleeping stayed dry in the Defender.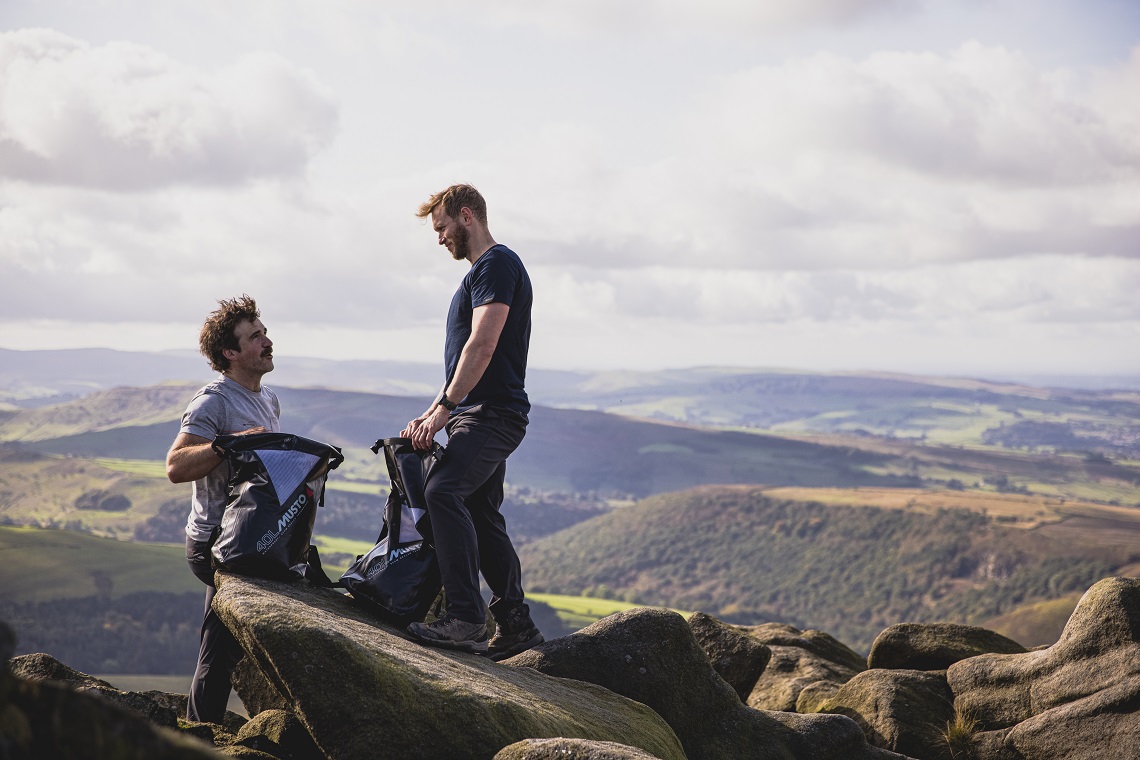 The next morning we kitted up in clothes from our mystery kit bags and set off to meet Steve and Wendy from Dolomite Training who would be our guides for the day. We met at the foot of Stanage Edge and began our hike to the top of the escarpment, skeletal autumn bracken and willowy wild grass all around us.
On the way up we were told tales of the legend of Robin Hood, with his reputed birthplace of Loxley only 8 miles to the north. Robin Hood's Cave lies on the upper part of the escarpment, which is where the outlaw is said to have used as a hideaway. The cave is now collapsed, apparently with someone inside when it happened. According to a local story, he was only found three years later when the rubble was cleared.
Stanage Edge is an impressive structure, desolate gritstone rock all around. Stevie and I took a moment to reflect on the ancientness of the land — we could just about make out Bronze-Age cairns through the heavy veil of white mist. On clearer days you can see miles of wild heather and scrubby heathland.
A HOLE NEW WORLD
Following Steve back down the track, we navigated winding narrow roads flanked by the typical dry-stone walls, each paddock almost perfectly rectangular.
Once we arrived at Millers Dale Station, a disused railway line, we hauled a few bags of kit to a huge stone viaduct where Steve started to rig abseiling apparatus. I hadn't abseiled for over 20 years, so couldn't wait to get the harness on and step through the barrier onto the ledge 30m above the River Wye.
I put my faith in Steve's rope rigging abilities and gently sat back into my harness, walking backwards down the soot-stained Victorian brickwork. My feet felt the top of the arch where I pushed off, a hand outstretched in case I misjudged the move and careened into the wall. The descent was then as fast or slow as I wanted. We took turns like children on a slide, building up the confidence to let the rope out faster every time.
We were told our final destination for the day would be the most adventurous yet, the ominously named Giant's Hole. This is where the wetsuit came into play. Looking at the seemingly child-size neoprene suit, I wondered if there was any chance of me, at 5ft 10, squeezing into it. I not only managed to get it on, but it was actually surprisingly comfortable, and I was still able to move all my limbs, something I would definitely need for what lay ahead.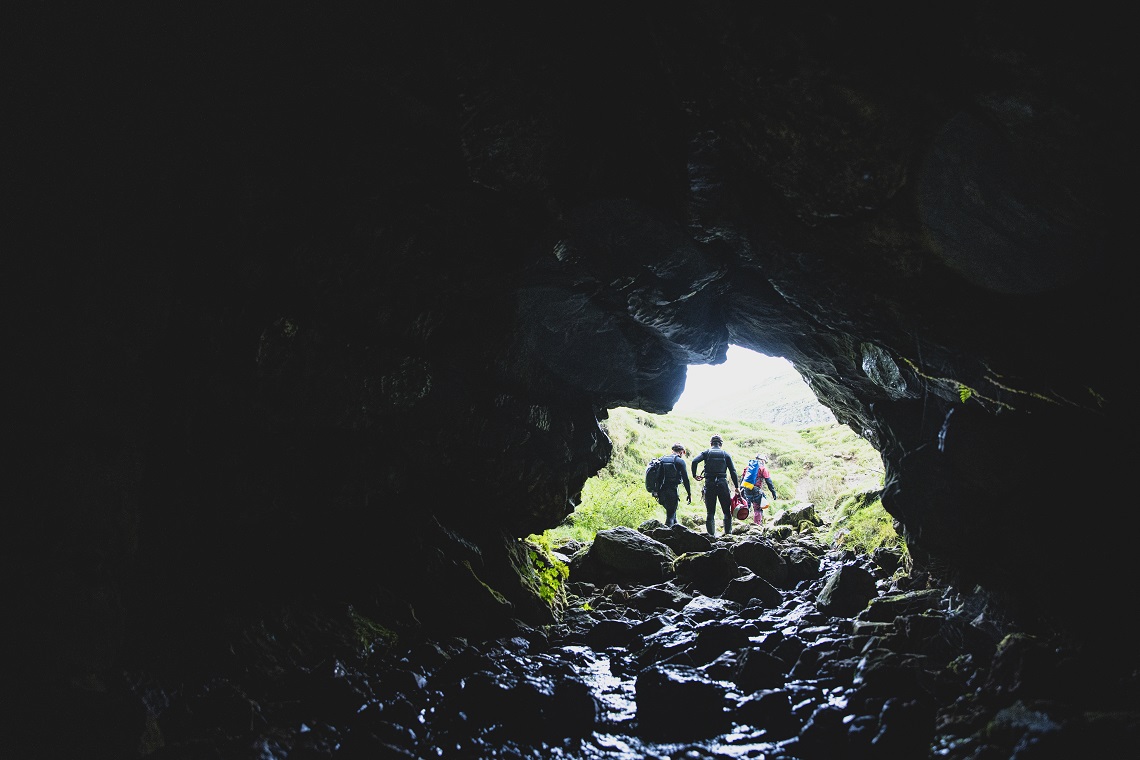 We ventured through lush fields and mossy banks to arrive at a forbidding cave. As a farmer, I feel most at home in wide-open spaces and claustrophobic conditions present a challenge.
The story of the trapped caver played on my mind as I nervously entered the open mouth of the cave. The cold, damp air hit me as soon as we were inside. The walls were a mix of smooth calcium deposits and rough limestone, sticking out like jagged teeth. Winding passages went deeper into the earth, narrowing to a point where we were crawling, before opening out into a cathedral-like chamber about 9m high. I could hear a torrent of water echoing from the rocks.
We turned the corner and came to the top of a sheer drop into a large hole, around 6m wide. It was here that the stream of water we had followed from the entrance shot over the edge creating an underground waterfall. Even though we were in almost total darkness, the torchlight bouncing off the waterfall was a breathtaking sight. Known as Garlands Pot, this is where we would be abseiling.
As I hung precariously over the edge, I felt a rush of exhilaration moving beyond my comfort zone. Icy water coursing over my body, I began my descent into darkness. I felt grateful for my Musto wetsuit for keeping the bitter cold at bay. After the initial shock had subsided, I began to really enjoy myself, experiencing the freedom of being in a place rarely explored by humans. Once at the bottom, I scrambled back up a rickety ladder, ready to take the plunge again. Deep in the bowels of the earth, I managed to conquer my fear of caving and, in the process, discovered a new activity I hope to continue with my husband.
PARK LIFE
We made our way back to daylight, greeted by warmer air and some bemused badger face sheep. Back at the campsite, the tent was no drier than it had been that morning. We looked at the Defender, then at the tent, then back to the Fender. With the rear seats folded flat there was enough room for us to stretch out and bedding down in a warm car, wrapped up in cozy layers, seemed the better option. And it was.
After a restful night's sleep, we packed everything up and headed off to the village of Hayfield which would be the start of our final activity: a hike up Kinder Scout. While not the highest or most challenging walk, Kinder Scout is arguably the most important due to the part it played in the creation of National Parks in England. In 1932, Benny Rothman led hundreds of people from surrounding towns on the Kinder Mass Trespass.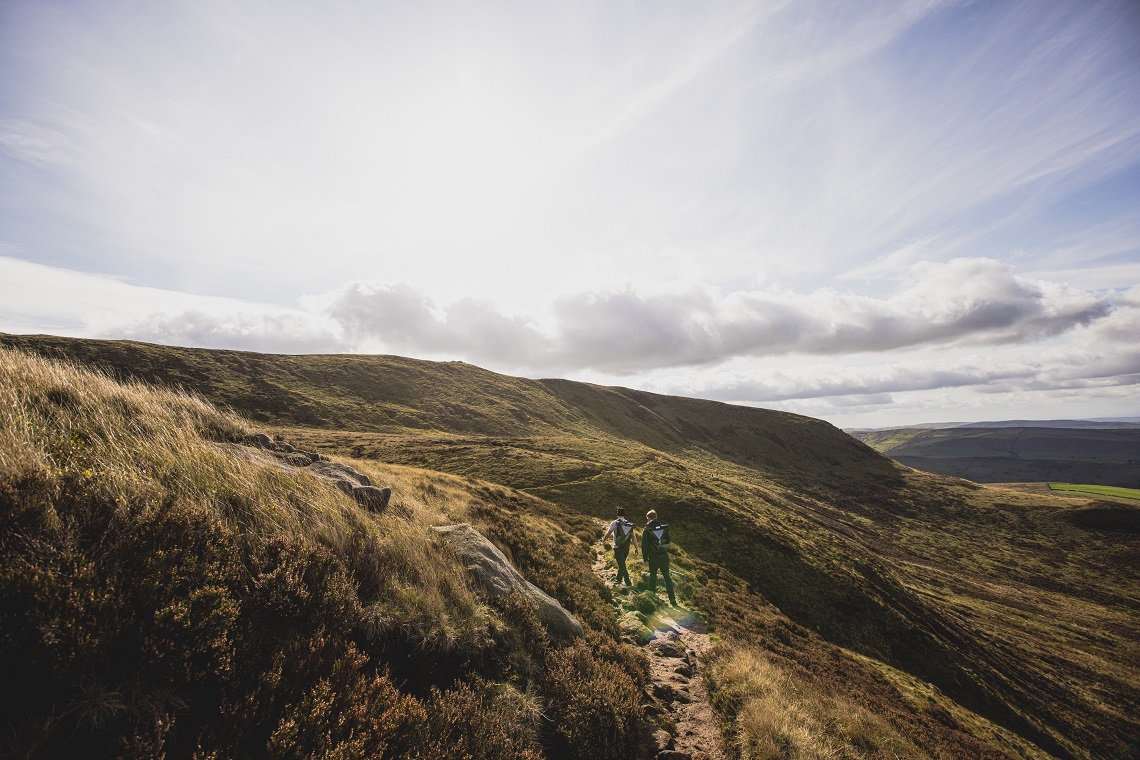 Before the Peak District became the first National Park in 1949, many of the incredible natural landmarks across the country were purely playgrounds for the wealthy landowners who held the deeds to them. We may now take these rights of way for granted but it's argued that the Mass Trespass was the call to action that was needed to give everyone access to some of the most stunning countryside in the world.
We took a circular route of just over 7 miles, following a bubbling stream that feeds up to the gritstone plateau, the highest point in the Peak District. At the top, there are verdant hills as far as the eye can see and mystical rock pools, said to be inhabited by mermaids.
Kinder Downfall is a short walk below; a waterfall that, although not exactly gushing that day, is still an impressive geological feature. A fine spray of water hung in the air, lending the rocky backdrop a greenish hue. A gentle drop back down to the car park and it was time to say our final farewell to the Peak District and head back south.
Visiting the Peak District reminded me of everything I love about the British countryside; its history, its wildness, and its potential for adventure. I feel slightly ashamed I hadn't visited sooner. Despite its importance in our national history, it has always been somewhere I have driven past to get to Scotland. I hope to return one day with Stevie and perhaps embark on more escapades underground.
---
Who's Writing?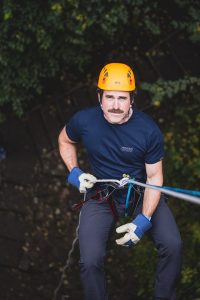 Organic farmer, Ben Andrews, is descended from a long line of agriculturalists. He aims to reconnect with the land by exploring as much of his home country as possible, identifying the species around him and encouraging those that are endangered. By farming better, he hopes to close the gap in understanding created by advancements in farming technology. He's hiked mountain ranges across the globe, but his focus now is the British Isles – bagging Munros, running fells, cycling tracks and paddling rivers. Ben is a Musto adventurer, based in Herefordshire, where he lives with his husband, Stevie.