I'M DREAMING OF…
Whether it's for yourself or a fellow adventurer, these LUXURY gift ideas inspire the pursuit of FREEDOM and celebrate a love of the GREAT OUTDOORS…
…A COSY CAMPERVAN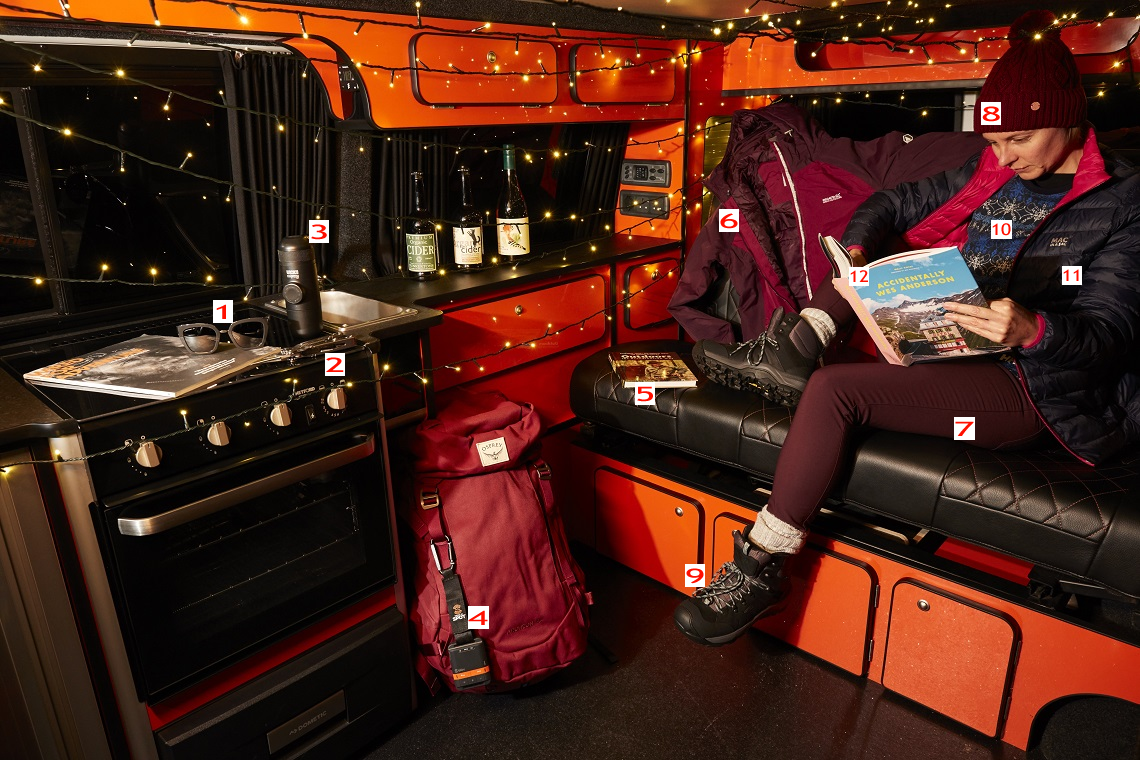 1 – OAKLEY SIDE SWEPT SUNGLASSES

£192, www.oakley.com
For the drama queen in your life, these oversized sunnies be Oakley look good come snow or shine. The Prism Black Polarized lenses offer the kind of protection and clarity you'd expect from the brand while the angular cats-eye frames will flatter anyface shape.
2 – SOG POWERLOCK MULTI-TOOL
£117.95, www.heinnie.com
Comprising of an impressive 18 tools in one, the SOG Powerlock delivers maximum bang for you buck with its unique Compound Leverage technology, ensuring you can excert the most cutting/crimping pressure possible with minimum effort. This is portable power for gadget-nuts.
3 – WACACO MINIPRESSO GR
£38.90, www.wacaco.com
For the coffee snob who refuses to compromise, with this Minipresso portable espresso machine, they can enjoy a barista-quality cup of joe even when they're roughing it. Small enough to take hiking – treat them to a brew with a view.
4 – SPOT GEN4 SATELLITE GPS MESSENGER
£131, www.findmespot.eu
Mobile phones are great to a point, but sod's law states that when you need it most, it'll be out of battery or out of range This satellite messenger ensures you'll always have an open line of communication, to reassure family and friends that you're fine, or send an SOS in an emergency, no matter where you are in the world.
5 – OUTDOORS THE SCANDINAVIAN WAY BYLARS FÄLT
Casstrom, £19.95, Hardback
Penned by renowned survivalist and ex-military man Lars Fält, this book offers up everything you need to know to get the most out of your time outdoors, from preparation and navigation to survival skills and dealing with emergencies. A wealth of knowledge with charming retro illustrations for the wild at heart.
6 – REGATTA VOLTERA PROTECT WALKING JACKET
RRP £160, www.regatta.com
This waterproof walking jacket from Regatta has a trick up its sleeve – quite literally. Powered by a rechargeable battery pack, the carefully concealed copper coils (try saying that after a sherry or two) in the back panel provide over two hours of continuous heat – ideal for outdoor activities with a lot of standing around. (Battery pack sold separately.)
7 – ACAI THERMAL SKINNY OUTDOOR TROUSERS
Fleece-lined, shower-resistant, insulating trousers with four-way stretch and support in all the right places. Think skinny fit isn't for you? Think again. These trousers are practical, stylish, and so snug you'll want to keep them for yourself.
8 – ACAI RECYCLED MERINO WOOL BEANIE
Made from a combination of Merino wool and Polylana – a low-impact alternative to traditional synthetic fibres – this textured cable-knit beanie is warm and moisture-wicking with the added feel good factor that comes with sustainable fashion.
9 – KEEN REVEL IV MID POLAR BOOTS
£130, www.keenfootwear.com
Warm, sturdy, and water-repellant, the Revel IV is the perfect surefooted companion on cold winter walks. Crafted using eco-conscious leather produced in a way that minimises waste energy and eliminates wastewater, its triple-layered insulation ensures feet stay cosy even when the weather out there is frightful.
10 – HELLY HANSEN MERINO MID GRAPHIC LS BASE LAYER
£90, www.hellyhansen.com
Available in a variety of colours and designs, including this festive graphic print, this extra-warm base layer from HH is ideal for when the temperature drops (or for lounging about in the ski lodge/living room). The stretch panels down the sides guarantee the perfect body-hugging fit and the extra length stops it riding up.
11 – MAC IN A SAC POLAR
RRP £84.99, www.macinasac.com
Reversible and water-repellant, the Polar is a 600 fill power down jacket that's super light-weight and super warm, perfect for squashing into a rucksack. Its slim profile and elasticated cuffs and hem make it especially well suited to layering up in extreme cold, or wear it as an outer in milder weather.
12 – ACCIDENTALLY WES ANDERSON BY WALLY KOVAL
£25, Trapeze (29 October 2020) Hardback and eBook
When adventuring isn't an option, you can't beat some inspirational armchair travel. Originally an Instagram following of the same name, Accidentally Wes Anderson is a collection of images from around the world, celebrating the divine aesthetic of the auteur in real-life situations. A must for adventurers and film buffs alike.
---
…A FESTIVE FIRESIDE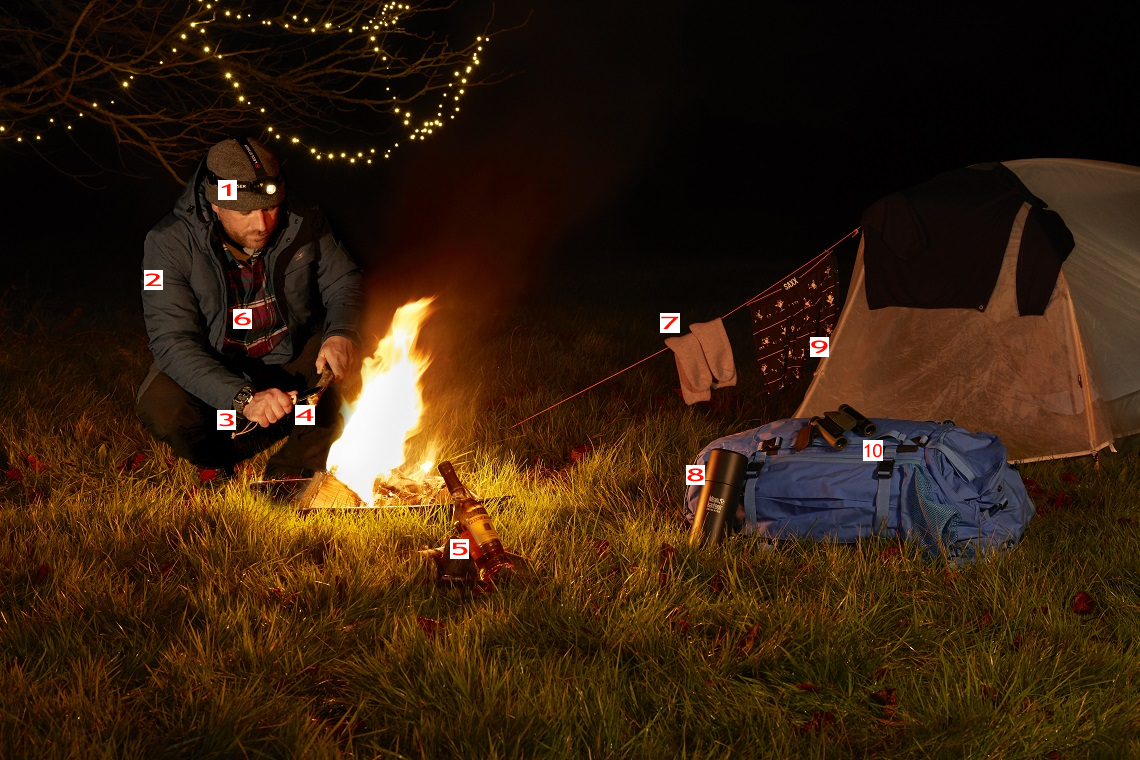 1 – LEDLENSER H7R CORE RE-CHARGEABLE HEADLAMP
RRP £89.95 www.ledlenser-store.co.uk (Discount code DIS10 for 10% off)
Perfect for the person who likes to be prepared, this headtorch features three brightness settings, which can be focused for flood (near) or spot (distance) illumination. Rated IP67 for supreme protection against the elements, dust and water ingress are not a problem for this tidy unit. A transport lock prevents accidental battery drain and a 7-year with registration warranty ensures complete peace of mind.
2 – VOLTER SHIELD II HEATED WALKING JACKET
RRP £240, www.regatta.com
This jacket is brilliantly suited for low-key cold-weather activities or those where there's a lot of standing/sitting around, like evenings spent on the campsite. With three temperature settings and over six hours of continuous heat, you're likely to tire before it does. Hooded, waterproof washable, and with pockets galore, there's not a box it doesn't tick. (Battery sold separately)
3 – ROYAL AIR FORCE X G-SHOCK GRAVITYMASTER
£379, www.g-shock.co.uk
This limited-edition watch pairs G-Shock's 'unbreakable' reputation with the Force's Never Give Up' philosophy. Built to withstand conditions faced by pilots, it has so many bells and whistles – including compass, altitude/barometer, temperature measurement, and an accelerometer that keeps track of step count – not to mention its unique looks that pay homage to its aviation heritage –is there nothing it can't do? A must for action men.
4 – LARS FÄLT SLIP JOINT KNIFE
£99.95, www.casstrom.co.uk
A thing of beauty, this carefully crafted UK-legal folding knife will handle the majority of outdoor tasks with ease, from bushcrafting to cutting cheese. It's reassuringly weighty and the curly birch handle adds a little something special.
5 – GLENMORANGIE
£20, 35cl, www.glenmorangie.com
Scotland is the home of big outdoor adventures and beautiful scenery, so why not gift a taste of the Highlands this festive season? Glenmorangie Original Single Malt Whiskey is the backbone of the range, and to be honest, you can't go wrong with this soft, mellow classic. Drink neat or in a cocktail around the campfire with friends for a nice warm feeling inside.
6 – ORVIS FLAT CREEK TECH FLANNEL SHIRT
€89. www.orvis.co.uk
Is this the most feel-good shirt ever made? Recycled oyster shells and PET polyester (think plastic bottles) are blended with cotton and elastane to create an eco-blend that is then brushed soft. While the poly wicks moisture away, the elastane gives the shirt an easy stretch, making it unbelievably comfy and practical for the stylish adventurer. Other colours available
7 – ACAI MERINO WOOL HIKING SOCKS
Socks are a Christmas classic. In fact, we half considered banning socks from this roundup for the sheer lack of originality. but once we got our tootsies into these chunky Merino wool ones from Acai, all was forgiven. Superbly warm, beautifully soft, and moisture-wicking to boot, if you insist on buying socks this Christmas, make it these.
8 – KLEAN KANTEEN TKPRO
£39.95, www.kleankantee.co.uk
One for drinks-lovers and eco-conscious adventurers alike, the Klean Kanteen is a plastic-free thermal designed to keep cold stuff cold and hot stuff hot in style. The 360-degree pour makes it easy to use and the TKPro model featured here holds up to 750ml of liquid – about the same as a bottle of (mulled) wine. Just sayin'. This is a heavy duty flask built to last.
9 – SAXX HOLIDAY CHEER ULTRA BOXER BRIEFS
Pants may seem like a bit of a boring present, but Saxx pants truly are the gift that keeps on giving. Thanks to their unique "Ball Park'technology, they guarantee man-parts will stay where they're put, minimising discomfort and chafing no matter how adventurous your lifestyle. 100% endorsed by the chaps at Wired For Adventure. They're worth it, we promise.
10 – SWAROVSKI CL POCKET 8X25 BINOCULARS
RRP from £600 uk.swarovskioptik.com
Give the gift of exceptional sight. These foldable, compact binoculars are comfortable, easy to use, and lightweight. Ideal for appreciating vistas and wildlife, even people who wear glasses can fully enjoy the large field of view (119 m) thanks to the individually adjustable twist-in eyecups. These bins are one piece of kit they'll treasure forever.
---
1 – SURFJET 2.0 KAYAK
£499, www.venturekayaks.com
For the friend who's been extra good this year (or the one who likes sharing their stuff the most) this is the ultimate gift of freedom. Designed to be a family fun kayak, the SurfJet2 is great for exploring both on the coast and inland with a range of customisable options, so you can tailor it to your adventures.
2 – MEADE ADVENTURE SCOPE 80
RRP £99, www.currys.co.uk
For lovers of wildlife, landscapes, and celestial objects, this 80mm-aperture scope can be used both in the day and at night. Compact, lightweight and easy to assemble, it folds away into backpack with its tripod and accessories for instant on-the-go viewing.
3 – MAZZLE
£19.99, www.harveymaps.co.uk
Is it a map? Is it a puzzle? The perfect gift for keen hikers and cartographers alike, this 1,000-piece OS map jigsaw of Ben Nevis and Glen Coe is a great way to spend an evening when the weather closes in. (Map jigsaws of other areas are also available including Snowdon, the Lakes, and the Peaks.)
4 – PRIMINO LONG-SLEEVE T-SHIRT
£60 www.montane.com
Blending Merino wool and Montane's Primaloft yarns, this baselayer is designed for active use in cold conditions. ensuring you stay warm, dry, and comfortable. Available in five different colourways.
5 – SOLAR ADVENTURER II
This compact and powerful solar charger has an integrated 10000mAh battery and is capable of charging most 5V electronic devices including smartphones, action cameras, smartwatches, and more. A Super-useful bit of kit for your device-mad mate or family member.
6 – HANDMADE SILVER THREE PEAKS PENDANT
From £140, www.peakjewellery.com
Beautifully crafted to order, this unisex pendant is the perfect way to commemorate a climb and celebrate a love of the outdoors, and with 15% of each sale going to Mountain Rescue, it's doing good, too. Other iconic mountains and bespoke requests also available.
7 – THERMAREST NEOAIR TOPO LUXE SLEEPING PAD
From £155, www.thermarest.com
At a whopping 10cm, the Topo Luxe is the thickest, most luxurious mattress in the Thermarest NeoAir range. Offering plush support and warmth thanks to its Triangular Core Matrix, which conserves heat and gives the pad stability, it also packs down small, so there's no need to rough it ever again
8 – CAMPFIRE GIN
£33-38, 50cl bottle, www.puddingstonedistillery.com
Distilled in small batches by Puddingstone Distillery, the award-winning Campfire Gin range has four heritage style gins with something to suit every pallet, from citrus, to spicy. to aged. Drink neat, in a G&T or serve in a cocktail. Perfect for warming the cockles.
9 – WIRED FOR ADVENTURE DIGITAL LIBRARY MEMBERSHIP
£32.99, www.wiredforadventure.com/online-bibrary
Give the gift of adventure this year with a Wired For Adventure Online Membership. With this, you'll get digital access to every single issue of Wired For Adventure, Adventure Travel and Independent & Specialist Travel ever created. That's over 147 issues full of travel and outdoor inspiration, information. and entertainment at your fingertips, no matter where you are in the world.
10 – SCHOFFEL PEACOCK SILK SCARF – £49.95, www.schoffelcountry.com
11 – SWAROVSKI CL POCKET 8X25 BINOCULARS – RRP from £600, uk.swarovskioptik.com
12 – LARS FÄLT SLIP JOINT KNIFE – £99.95, www.casstrom.co.uk
13 – STATIC ARTIST SERIES CHALK BAG – From £35.95, www.absolute-snow.co.uk
14 – SOG POWERLOCK MULTI-TOOL – £117.95, www.heinnie.com
15 – VW CAMPERVAN ENAMEL MUG – £9.95, www.campervangift.co.uk