UTAH in the USA is known for its Mighty 5 NATIONAL PARKS in the south as well as the famed ROCKY MOUNTAINS to the north, but the wider STATE offers a wealth of MIGHTY adventures, too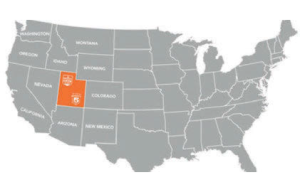 Ideally situated in the west of the USA, Utah is a hotbed of natural wonders that combines deserts, mountains, and forests to create an adventure playground unlike any other. It's Mighty 5 National Parks — Arches, Bryce Canyon, Canyonlands, Capitol Reef, and Zion — offer visitors the chance to explore the landscape by every kind of adventurous means imaginable.
From trekking, climbing, and horseback riding to canyoning and wild swimming, there isn't an itch you can't scratch here. To the north, the Rockies provide snow sports, high-altitude fun, and jaw-dropping vistas.
Aside from these obvious attractions, though, the state of Utah gives thrill-seeking travellers the opportunity to experience the west in all its untamed glory.
A-MAZE-ING CANYONS
Utah has the highest concentration of slot canyons in the world, many of them accessible with the right gear and know-how. These narrow gorges cut into the soft, sedimentary rock can be a real challenge for mind and body as you pick your route between the boulders and navigate your path over uneven terrain.
Must-do canyoning routes include the Narrows in Zion National Park, Peek-a-Boo Canyon 9 miles north of Kanab, and Buckskin Gulch. At an incredible 1.75 miles long, Buckskin is the longest slot canyon in the world!
If you're new to canyoning, a guided adventure is the best way to go. You'll be provided with all the kit and advice you need for taking on the scrambly challenges, plus you'll get an insight into the history behind these stunning geological features.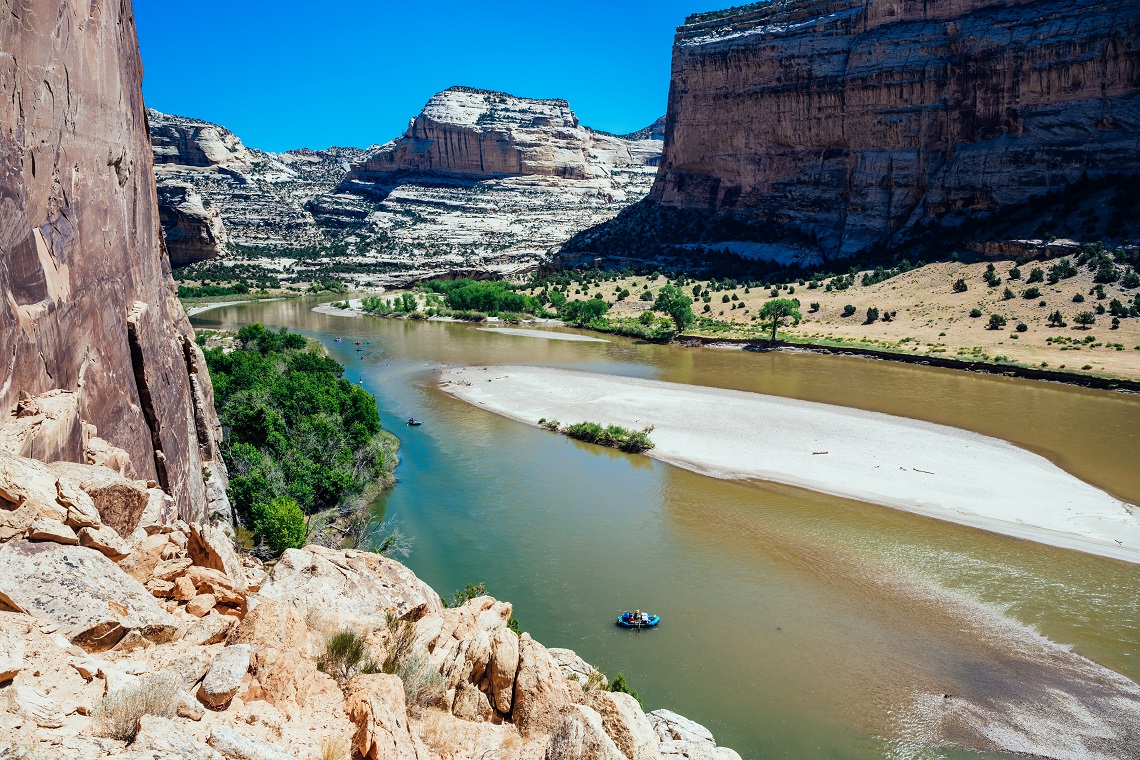 WATER SPORTERS
Like to get wet on your outdoor adventures? From the wild to the sublime, Utah offers ample opportunity to experience the state by water. The Colorado River runs for 1,440 miles through seven states, including Utah. It offers up a range of fast-flowing challenges from beginners' level up to Class V (expert). If rapids are your thing, you've come to the right place The Green River, which stretches all the way from the Wyoming border to Canyonlands National Park, is popular for white-water sports.
There's also the opportunity to explore this stretch by SUP if you prefer it wet and mild. Bear Lake — known as the Caribbean of the Rockies — and Lake Powell — the second-largest manmade lake in the USA, are both ideal locales for chilled aquatic activities, including house-boating, where you can literally set up camp on the water.
With its painted desert backdrop, Lake Powell in Southern Utah is a wild swimmer's paradise. To the north in Midway Utah you'll find Homestead Crater, a unique geothermal hot spring hidden inside a 17m dome of limestone. Here, you can swim, snorkel, and scuba dive to your heart's content.
SNOW LIMIT
Utah's snow is known as the 'Greatest Snow on Earth', a term coined by a ski journalist in the 1960s and it still rings true today. Freestyle Team GB Skier and Olympic Bronze Medallist Izzy Atkin and Team GB hopeful Zoe Atkin both call Park City, Utah, home thanks to its incredible snowy conditions. One look at the perfect white peaks and it's easy to see why so many top athletes choose to train here.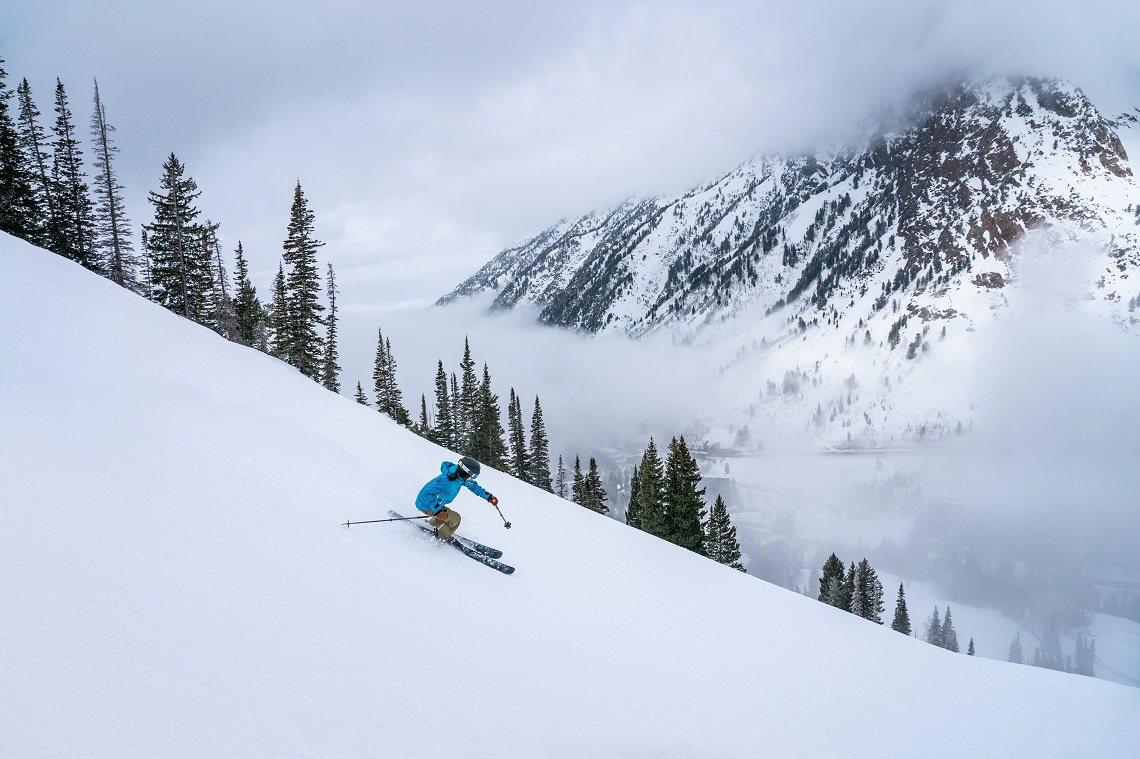 Ten of Utah's 15 ski resorts are within an hour's drive of Salt Lake City airport. Skiing, snowboarding, and tobogganing are among the adrenaline-pumping downhill attractions, of course. If you want to try something different, however, snowshoeing, ziplines, a high-rope course, tubing and bobsleigh are all available at Utah Olympic Park.
Snowmobiling is another high-octane novelty experience Utah offers up to fans of the white stuff. There are nine dedicated snowmobile trails across the state, and these cater to all level of abilities. Experienced snowmobilers with avalanche skills will have a blast in the steep, hilly terrain, while novices will enjoy having a play in the powdery meadows.
WHEELIE GOOD TIMES
One of the best ways to make the most of what Utah has to offer is to explore it on two wheels. A road cycling tour, which can be anything from a day's cycle hire to an extended bike-packing adventure, will give you glorious scenic views and up-close encounters with Utah's natural wonders.
There are a variety of routes around the state ranging from easy-going beginner's rides to more challenging mountain roads, which will satisfy those who love a punishing gradient.
Antelope Island, the largest of the 10 Great Salt Lake islands, is a fantastic place to explore by cycle or e-bike, especially if you're into wildlife. Along the 48-mile route from Syracuse to Antelope Island State Park you'll see bison, over 250 species of bird, and of course, the eponymous pronghorn antelope.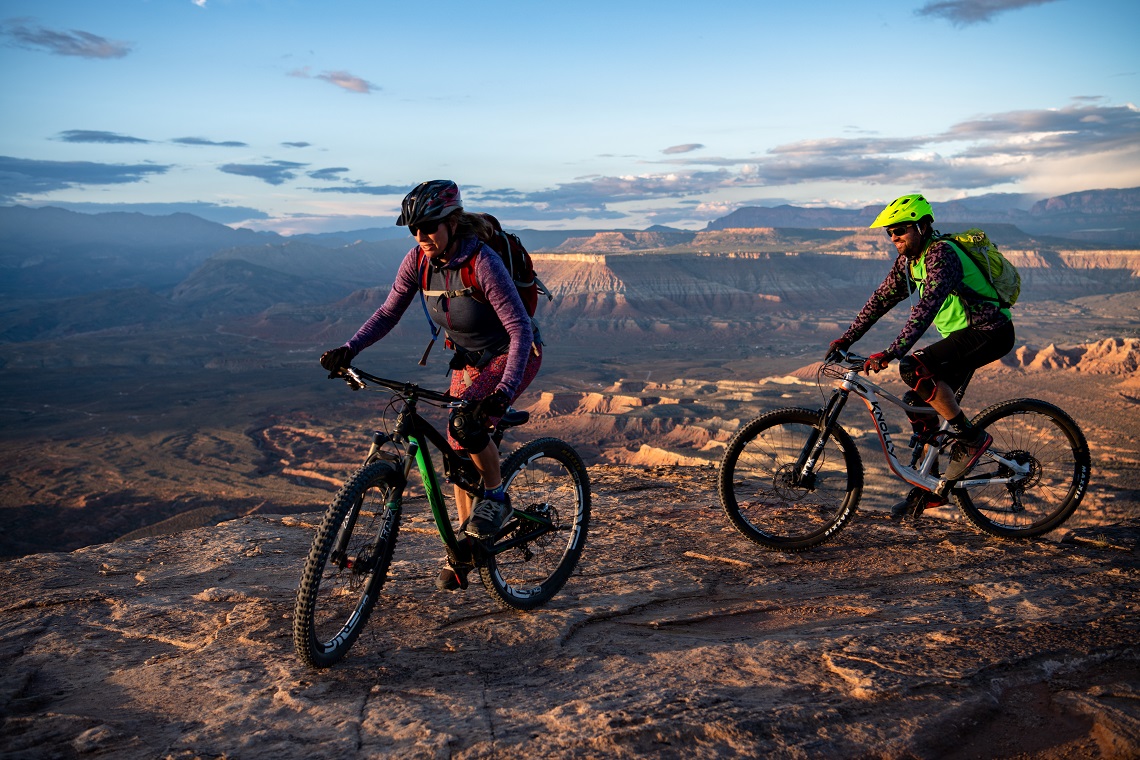 At Bear Lake, novice cyclists can enjoy gently rolling roads and beautiful vistas across its turquoise waters, while the 50-mile Parawan Gap route is one for the history buffs. The route was used by Fremont and Anasazi peoples as a shortcut through the Red Hills and the petroglyphs (rock illustrations) left behind by these ancient cultures can still be seen today — some of them dating back thousands of years.
Mountain biking comes into its own in Utah. The slickrock trails of the south and mountainous terrain of the north appeal to rough riders. Top mountain biking routes are the desert rock of Gooseberry Mesa, the forested high altitude Wasatch Crest Trail, and *Slickrock trail itself, which goes through the Moab.
The Aquarius Trail Hut System is a brand-new bike packing trail that links a series huts made from repurposed shipping containers. The route takes in Brian Head (3,446m), through Panguitch, Hatch and Bryce, the Dixie National Forest, and down to the beautiful town of Escalante. A system of five remote luxury huts is located along the 190-mile backcountry route, offering bike packers a wilderness experience unlike any other.
OFF-ROAD
There are literally thousands of square miles of land across Utah that are inaccessible by car. If mountain bikes aren't your thing, how about exploring off-road in an ATV? With the right set of wheels you can gain access to a whole new world of breath-taking scenery, far from the everyday asphalt.
Guided 4WD tours are the best way to experience Utah's backcountry. They'll provide you with all the kit and permits you need, show you the best routes, and in some cases, give exclusive access to parts of the trail usually off-limits to the public.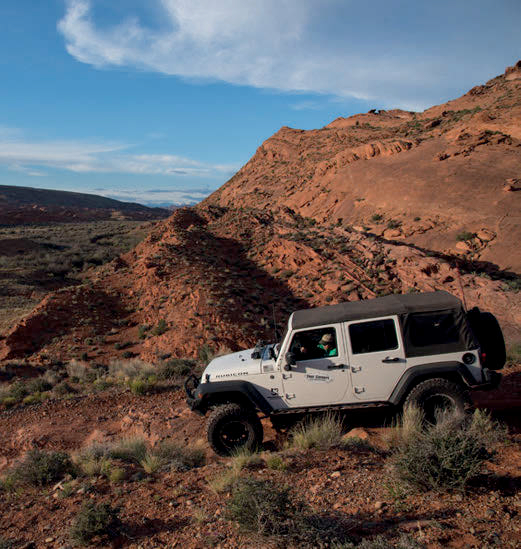 One of the most popular places in Utah to explore off-road is the 100-mile White Rim Road of Canyonlands National Park. The three-day trip takes you around and below the Island in the Sky mesa, giving you spectacular views across an endless sea of rock. At night, camping under dark skies is mesmerising.
The challenging terrain around Moab is another pull for 4WD lovers, especially at sunset when you can watch the whole valley dissolve in a stunning display of reds, oranges, and golds. Fancy a cultural experience? Guided tours of Monument Valley Navajo Tribal Park are led by local Navajo guides, happy to share their colourful ancestry and in-depth knowledge of the landscape. You'll also get exclusive access to areas usually off-limits to the public, too.
For more on adventures in Utah, see www.visitutah.com/uk and www.skiutah.com. Trailfinders offers a wide variety of tailor-made trips to Utah, see www.trailfinders.com/holidays/usa/western-usa/utah to start planning yours.