From ski jackets to down jackets, expedition jackets to three in ones, these coats of many configurations will see you through all kinds of cold-weather adventures
The optimum temperature for the human body to function is around 36.5-37C. Things start to go wrong when the body's core temperature drops below 35C, which is when the effects of hypothermia begin to kick in. Hypothermia is defined as 'a dangerous drop in body temperature below 35C. It affects the heart and nervous system and can cause confusion, lack of coordination, and in severe cases, respiratory failure and eventually death.
In short, it's best avoided. But that's sometimes easier said than done when conditions conspire against you and the weather suddenly turns. Though it sounds like the preserve of Arctic explorers, you're just as likely to develop hypothermia in the UK if you go off adventuring in the cold and wet without the proper gear, particularly at altitude.
When the mercury drops, no item of clothing works harder at keeping you warm, dry, (and alive!) than your jacket. It's your first line of defense against the elements and has the all-important job of protecting your vital organs from the cold.
Of course, as with any item of performance clothing, there's no end to the technical bells and whistles available on jackets these days, which vary depending on the kinds of activities they're designed to be used for. On top of that, there are now so many 'hybrid' jackets out there — those designed to be suitable for multiple activities — the choice is even more mindboggling.
Your jacket will probably be the most expensive piece of kit in your adventure wardrobe, so shopping around to get exactly the right kind of coat for your wintery forays is paramount for more reasons than one.
From ski and expedition jackets that offer serious warmth and weatherproofing, to multi-layered three-in-one jacket systems that allow you to customise comfort levels on long winter hikes. The following round-up will give you an overview of the various styles of cold-weather jacket available and the features to look out for when making a purchase.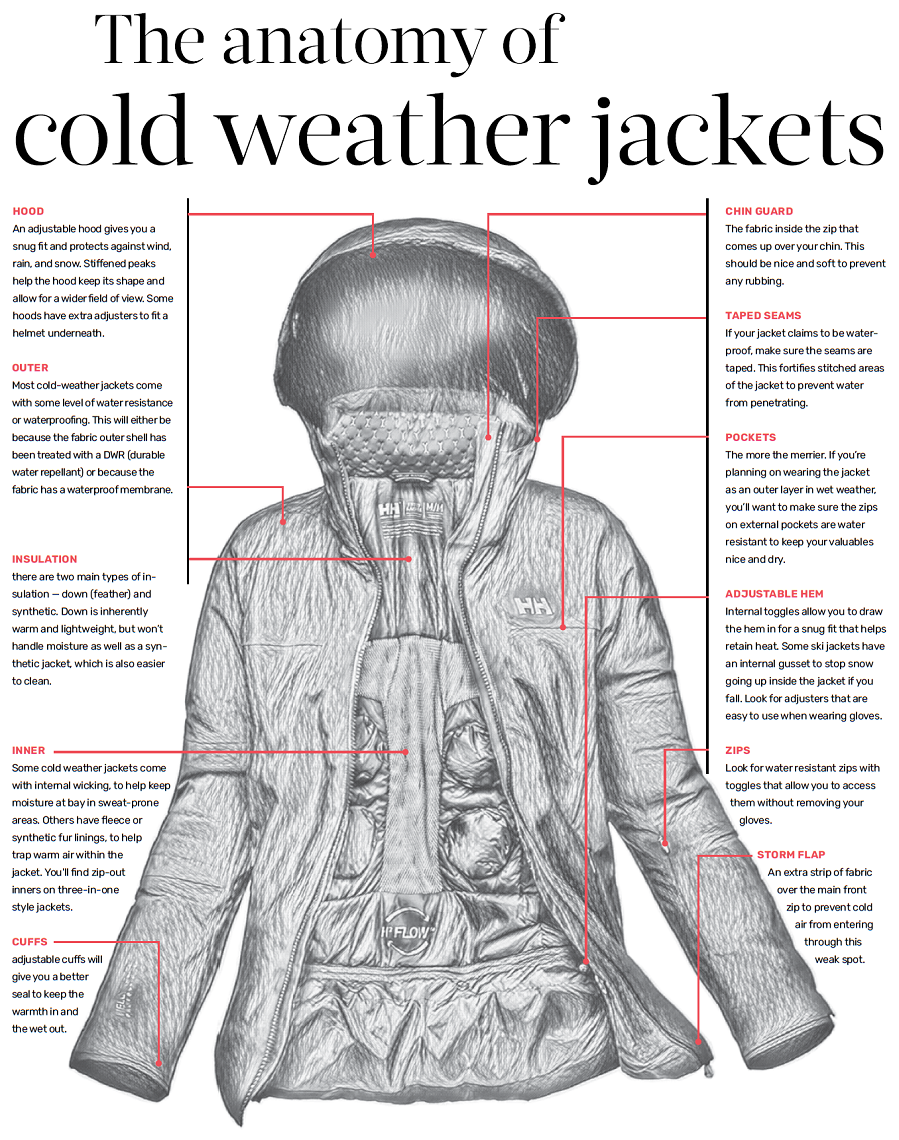 ---
MEN'S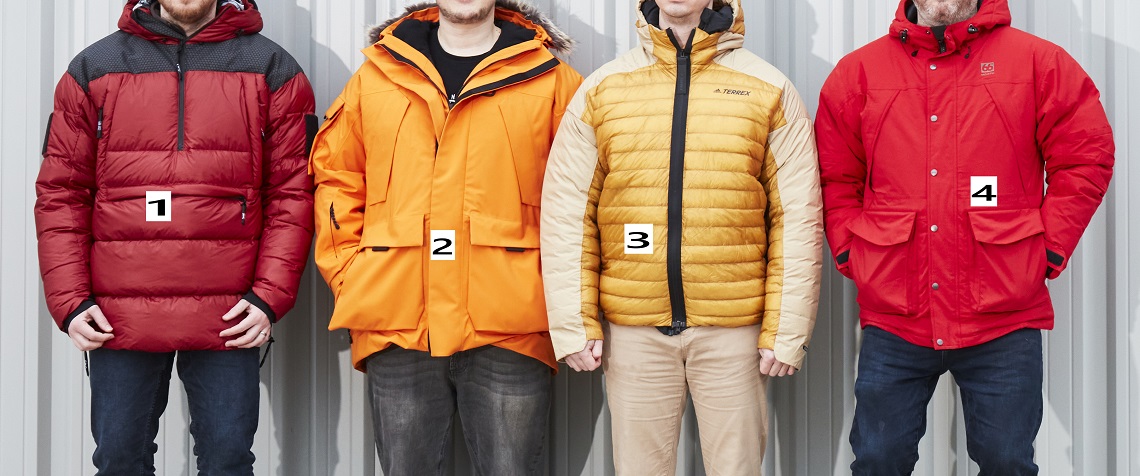 1 – BEST FOR HOSTILE ENVIRONMENTS
ThruDark Patriot Jacket – £595 | www.thrudark.com
"When savage winter climates offer no salvation — this is the refuge you seek." So says the product description of the Patriot Jacket on the ThruDark website. Like everything from the brand that was started by two ex UK Special Forces members, the product description may sound a bit bombastic, but when the temperatures drop you'll be glad to have the Patriot Jacket close to hand.
The Patriot is a smock with a half zip that's been designed and developed for use in severe cold weather conditions, with ThruDark giving it a temperature rating of -40C. As such, it's bulkier and heavier than the lightweight and packable options here, like the Montane Axis Alpha, but it provides a level of warmth and weather protection that far exceeds them as well.
Serious warmth is on the cards thanks to an 850 fill down insulation. This has also been treated so that it's hydrophobic, promising to offer performance even when wet. Pull the Patriot over your head and you'll immediately be aware of just how warm the jacket is, and with the wonderfully soft inner material, it's a pleasure to wear.
Warmth aside, the jacket features Cordura and Dyneema reinforced shoulder panels to provide abrasion resistance and durability, a large fleece-lined front pocket (which is more like a pouch) and two large fleece-lined handwarmer pockets
2 – BEST FOR SERIOUS COLD
Shackleton Haakon Tactical Parka – £1,395 | www.shackleton.com
Built on the life and values of the legendary polar explorer of the same name, Shackleton is a luxury outdoor gear company that makes some seriously good-looking, high-performing, and quality-feeling outer and knitwear. For this round-up, we've included the Haakon Tactical Parka which, at £1,395, is the most expensive winter jacket here.
I could buy my first car five times over for the cost of this jacket, but I've got a feeling I'd be much happier taking the Haakon into the frozen beyond than I would my little Peugeot 205 (aka Geoff). This is a winter coat that's been designed to take on the elements head first. Yes, it's a fashionable piece of kit and I imagine there are more of them being worn on the highstreets of London than the chilling tundra of the Arctic Circle, but if you want something that's going to keep you warm, comfortable, and protected from the elements then you're in the right place.
Warmth comes from an 850 fill goose down (responsibly sourced) throughout the jacket, while the wind and the rain is kept out thanks to the 100% recycled wind-and waterproof outer. You get ample storage provided by a series of huge internal and external pockets, and the hood features a beautiful (and detachable) synthetic fur trim.
Perhaps the best thing about the Haakon though is just how comfortable it is to wear. The inner is incredibly soft and the pockets are lined with a gorgeous microfleece.
3 – BEST FOR VERSATILITY
Adidas Terrex Myshelter Down – £250 | www.adidas.co.uk
If you want a jacket that'll do it all, the Adidas Terrex Myshelter Down Hooded Jacket is a great option. It's fully featured yet manages to offer a lightweight (450g in a size XXL) and small packsize (about the size of a loaf of bread), and will suit you as an outer layer if you're adventuring in the milder seasons or as a mid-layer when the temperatures drop.
The jacket makes use of a high-quality 600 fill HyperDRY duck down to keep you warm, and it's hydrophobic to help retain the down's insulating properties if it gets wet. This is contained in micro baffles which do a good job of preventing feather migration.
It's often the case that lightweight gear sacrifices features in exchange for shaving off a few grams. While there are definitely more feature-focused winter jackets around, the Terrex Myshelter Down offers more than enough for a lightweight layer. The hood features a stiffened peak (though it could be stiffer), you get ample storage in the form of three zipped pockets (two hand warmers and one on the chest), and the main zip, which features an easy-to-grab oversized pull, is backed by a substantial storm flap to keep the cold out. Style-wise, it's not going to be everyone's cup of tea, particularly in the mesa/beige tone colourway in the image above, but beauty is in the eye of the beholder!
4 – BEST FOR STYLISH SKIING ADVENTURES
66 Degrees North Thorsmork Parka – €675 (approx. £563) www.66north.com
When it comes to kitting yourself out for the cold, 66°North is something of a go-to brand. Being based in Iceland, you can be sure these guys know a thing or two about keeping warm when the mercury drops below zero.
The Thorsmörk (Þórsmörk) Parka is named after a popular hiking destination in southern Iceland, which is in turn named after the Norse God of War. Naturally, these epic inspirations have informed much of what you find in the build of this strong, durable jacket.
It goes without saying that the Thorsmörk Parka is warm, because inside the tough, hardwearing outer, is a generous helping of goose down (which has been responsibly sourced). When you've got it on, you'll quickly see why 66°North calls their gear 'a valuable ally in the great outdoors'.
When cold weather turns wet, the Thorsmörk Parka's got your back too, with its waterproof outer. You'll also be glad of the (removable) hood to keep the rain at bay. And don't look past its eight (yes, eight!) pockets, including a handy sleeve pouch. Put is this way, you definitely won't be short of storage space.
As the temperature drops to its lowest over the coming months, the Thorsmörk Parka really comes into its own. Good news for anyone who wants to stay warm this winter on their morning commute or foray into the great outdoors.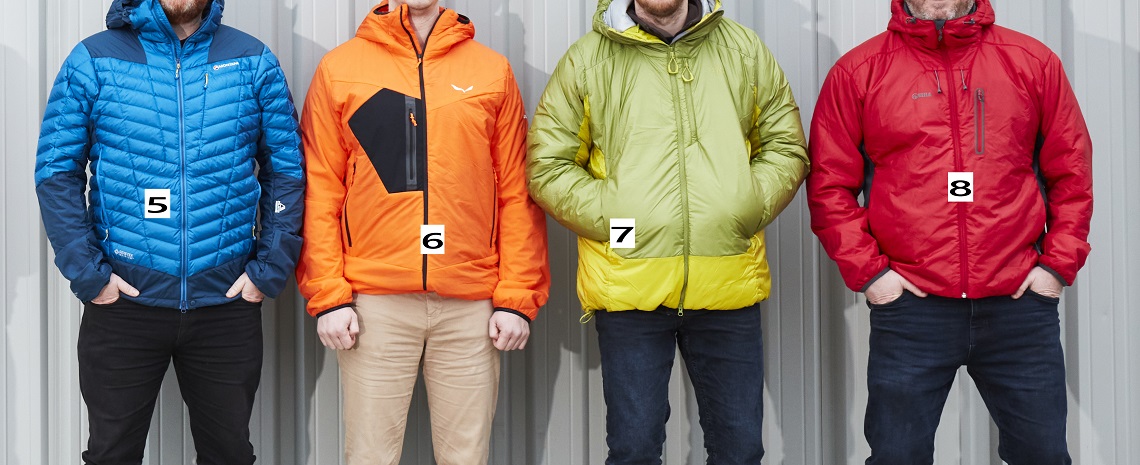 5 – BEST FOR MOVING FAST
Montane Axis Alpha Jacket – £250 | www.montane.com
If you're the kind of outdoor adventurer who would rather keep moving than stop for a sausage roll and a swig of tea from your Thermos, then there's a good chance the Axis Alpha Jacket will be right up your street — or trail. Designed by British outdoor gear company Montane to be 'the ultimate piece of protective clothing for fast-paced activity in cold and changeable conditions', the Axis Alpha features an athletic fit that's ideal for moving speed in the mountains.
Keeping you warm is 800 fill goose down (that's been responsibly sourced) in the core areas and synthetic Polartec Alpha high loft fleece across the back, the forearms, and in the hood. This mix of natural and synthetic insulation means that the Axis Alpha provides a brilliant mix of warmth, a low weight (505g in a size L), functionality in adverse conditions (the synthetic insulation being placed in areas that are more likely to get damp), and temperature management to help prevent overheating when working hard.
To further aid temperature regulation, the core uses windproof Gore-Tex Infinium material, while the Polartec areas feature more breathable Pertex Quantum Air.
Elsewhere, you'll find a helmet-compatible hood with a stiffened peak and three volume adjusters, an easily adjustable hem, two handwarmer pockets, and a zipped chest pocket.
6 – BEST FOR ALPINE SKIERS
Salewa Ortles TWR Stretch Jacket – £275 | www.salewa.com
Outdoor brand Salewa has called the rugged and beautiful Italian Dolomites it's home, heritage, and inspiration since 1935. This makes the brand something of an expert when it comes to designing gear that'll keep you out of trouble when you're high above sea level.
It should come as no surprise, then, that Salewa's Ortles TWR (TirolWool) Stretch Jacket is a great option for alpine and ski-mountaineers. It weighs just 395g and has a four-way stretch nylon outer fabric that offers enough flexibly and unrestricted movement to cope with everything from climbing difficult terrain to hiking in the snow.
You get plenty of other innovative features too, like what Salewa calls 'natural smart insulation'. With this, the TirolWool Responsive Stretch padding inside the jacket actively dumps excess heat when you're on the go and retains it when you're not, to keep you warm when you rest. This helps the jacket work to regulate body temperature whether you're on the move or not, meaning you're less likely to have to faff around with adjusting your layers to meet your activity level.
You also get a hood with multiple volume adjusters, a high front collar, and the full-length front zip is protected by a windproof storm flap – great for keeping the cold at bay.
7 – BEST FOR SNOWY CLIMBS
Rab Generator Alpine Jacket – £250 | rab.equipment
Rab has been producing gear fit for outdoor use since 1981 and, in my experience at least, the company consistently produces brilliant kit that's designed primarily with mountain use in mind. If you looked in my gear cupboard, you'd see that 80% percent of what I own is adorned with the Rab logo, and there's good reason for that.
The Generator Alpine Jacket, pictured above, is Rab's offering to this winter jacket round-up and its one that's been built with cold weather and exposed climbs in mind. As such, you'll find a number of features which make it suited to climbing and mountaineering.
High pockets will allow access when wearing a harness, the hood is helmet-compatible, oversized cuffs have been designed so they'll go over thick mountaineering gloves, and the Pertex Diamond Fuse outer will provide toughness and anti-snag properties — perfect for when you're rubbing up against abrasive rocks.
To keep you warm, the Rab Generator Alpine Jacket is insulated with two weights of PrimaLoft Gold. This is tactically mapped to help provide extra warmth in areas where you'll need it without adding too much bulk. Of course, a benefit of using PrimaLoft over down is that the Generator will continue to insulate while wet, which is welcome news if you get caught out in bad weather!
8 – BEST FOR TYPICAL UK CONDITIONS
Keela Talus Primaloft Jacket – £139.95 | www.keelaoutdoors.com
Long-distance hikes can be tiring affairs. But one way of making your life easier is to carry less weight. Trust me, those stunning views will look a whole lot better when you aren't lugging around what feels like two tonnes.
The best way to cut down on weight is to make sure your kit is as light as possible. This makes a jacket that doesn't weigh much — but still provides you with plenty of warmth when needed — the best of hiking companions. UK-based outdoor brand Keela reckons it's found the solution with the lightweight (600g) Talus Primaloft. This jacket makes use of Primaloft Gold insulation to keep you warm, and it does a great job of doing it.
The inclusion of Primaloft Gold and its excellent cold-weather performance makes the Keela Talus an ideal choice for UK hill walks where there's always a chance you'll get caught out in the wet (synthetic fibres retain insulating properties when wet).
Perfect as either a mid or outer layer, the stretchy fleece softshell and lightweight fill make the Talus a great jacket for year-round use.
If you're looking for a warm jacket for autumn and winter adventures that's also light enough to shove into your rucksack, check this out.
---
WOMEN'S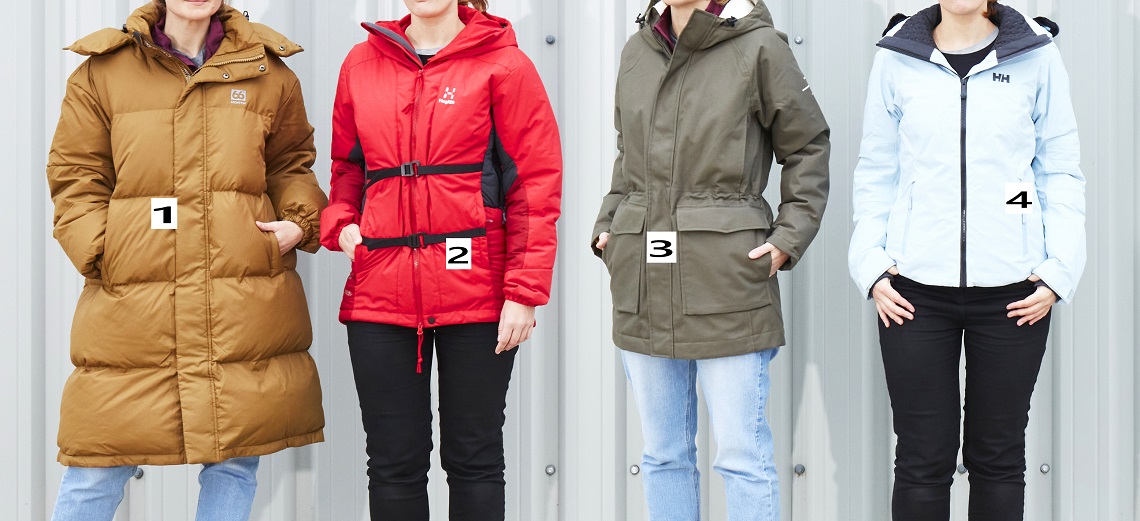 1 – BEST FOR URBAN ADVENTURES
66 Degrees North Dyngja down coat – £475 | 66north.com/uk
Planning a cold-weather city break? I did Paris in December 2009 and, I kid you not, the windchill was enough to freeze eyeballs. Had I been blessed with something as stylish and practical as the Dyngja down coat, however, I'd have fared a lot better on the Champs Elysee when the mercury dropped to -5C.
66 Degrees North is an Icelandic company that's been kitting the fashion conscious out for the cold since 1926. Characterised by clean lines and simple silhouettes, the boxy unisex fit of the Dyngja coat is a nod to the brand's vintage roots. Although roomy, it's not cumbersome and is surprisingly lightweight given the amount of coverage.
The front zip has a storm flap and the elasticated cuffs help keep the warmth in. The hood is adjustable and detachable, which is a nice touch, and the deep hand-warmer pockets are lined with a soft, fleecy material. There's also an additional zipped internal chest pocket that's perfect for keeping valuables like your wallet, passport, or phone close to hand – very useful when exploring urban environments.
The 800 fill duck down that gives the Dyngja its luxurious warmth is ethically sourced and meets the Responsible Down Standard (RDS). The outer is just as sumptuous, and being made from 100% recycled plastic bottles, it's eco-friendly too. You wouldn't want to get caught in a downpour while wearing the Dyngja, but for chilly city adventures, it's just the ticket.
2 – BEST FOR COLD WEATHER EXPEDITIONS
Haglofs Nordic Expedition Down Hood – £660 | www.haglofs.com
Billed by Haglofs as 'the world's first breathable down jacket', the Nordic Expedition is packed full of features to take you into the frozen beyond. Working from the inside out, the jacket's inner has the feel of a classic down, with baffling to keep the hydrophobic (water-resistant) 800 fill-power goose down in place. Extra insulation to eliminate cold spots comes courtesy of extra baffles in the arms, flanks, and behind the handwarmer pockets.
Inside, there's an abundance of internal pockets — four stretchy elasticated ones, and a zipped chest pocket that's perfect for a mobile phone or camera. The chin guard is also nice and soft.
Moving to the outer, the Nordic's ripstop shell is made from what Haglofs calls 3-layer PROOF, a lightweight, breathable fabric that's wind-and waterproof thanks to its eco-friendly fluorocarbon-free finish, meaning it won't shed harmful chemicals into the environment. Other weatherproofing features include a fully adjustable peaked hood that can fit a helmet, waterproof zips on exposed external pockets and underarm vents, elasticated cuffs, and an adjustable hem. The waist adjusters on the front of the jacket also help keep the warmth in.
The pièce de résistance, however, has to be the Nordic's integral snow seat, which unzips and flaps down from the inside the jacket to give you a waterproof pad to sit on and admire that mountain view.
3 – BEST FOR COASTAL ADVENTURES
Finisterre Vellus parka – £360 | www.finisterre.com
The Vellus Parka from British surf brand Finisterre is a coat with a capital 'C'. It reminds me of the kind of 'back-to-school' affairs I used to wear while running around wintry playgrounds —and that's no bad thing. While those coats used to wet out at the first sign of rain, however, the superior weatherproofing the vellus has your back, front, and everything in between, no matter how wet and wild things get.
Made using recycled materials, the fully waterproofed polyester/organic cotton shell has a hydrostatic head rating of 20k. This means it withstands water pressure from an upturned test tube filled with 20,000mm of water before leakage occurs.
20k is classed as 'excellent'. Needless to say, all seams on this jacket are taped too. Besides its waterproof credentials, the Vellus is also super warm. Inside, it's quilted with Finisterre's own Engineered Insulation, which is eco-friendly, easy-care, and retains most of its warmth even when wet. The adjustable hood is lined with sherpa fleece, which is both cosy and cool-looking.
Other features I like are the waist cinches, which allow you to get a good custom fit, and the soft-lined handwarmer pockets. The only drawback with this parka is that it's one hefty piece of kit. There's no packing this down or storing it away. It's just as well, then, that once you've got it on you won't want to take it off.
4 – BEST FOR STYLISH SKIING ADVENTURES
Helly Hansen Verbier Infinity Jacket – £600 | www.hellyhansen.com
Looks aren't everything, but it goes without saying that the Verbier Infinity from Helly Hansen is simply stunning. Also available in white and navy, this striking ski jacket will make a statement on the slopes with its slim fit and luxurious plushy hood (which feels as lovely as it looks). Good job it's got the tech spec to back up those snow bunny claims.
The Verbier Infinity's outer uses Helly's LIFA infinity technology, which makes it waterproof and breathable without the use of harmful chemical treatments. With LIFA, waterproofing comes from the fabric fibres themselves, which are heated and stretched to make them inherently hydrophobic (try saying that after a few apres). The zips on the main handwarmer pockets are also waterproof.
Other outside features include a removable hood that can be adjusted to fit a helmet, underarm vents, and a sleeve pocket for lift passes. The sleeves also have wrist gaiters with thumbholes, which I like.
Inside, you get Primaloft insulation and something HH calls H2Flow, a system of vents that help regulate the temperature within the jacket when the skiing gets tough. Then there's a warm internal pocket that'll take a camera, phone, or batteries, and a concealed 'powder skirt' inside the adjustable hem to keep the snow out. Ice queens, this is the jacket for you.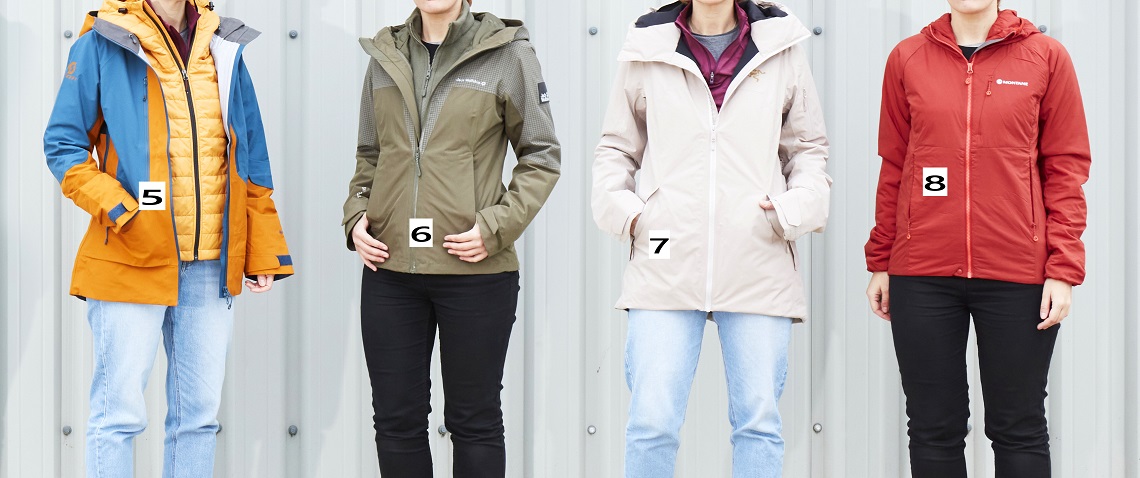 5 – BEST FOR LAYERING UP
Scott Sports Vertic GTX 3L Stretch Jacket – £540 | www.scott-sports.com
If you're looking for a versatile, lightweight shell that's up to task no matter what the weather throws at you, the Vertic from Scott Sports ticks all the right boxes.
Unlike an insulated ski jacket, which gives you warmth and weatherproofing in one, the Vertic is a tough, performance waterproof that lets you build your own layering system underneath it. And it's an option that many people prefer. Here, we've paired it with the BAM 73 Zero insulated jacket (£165, www.bambooclothing.co.uk).
Every inch of this jacket has been designed to make it as user friendly as possible, even in the roughest of conditions. From its stretch panels around the shoulder joints that allow you to move freely, to the generous toggles that make using zips with gloves on a dream, and the concealed vent in the chin guard, it's a well-thought-out bit of kit.
Other practical features include a peaked adjustable hood that takes a helmet and generous underarm vents that are easy to access. Wrist gaiters in the adjustable cuffs and a powder skirt inside the adjustable hem are also welcome additions.
Then there's the pockets – three external (all with waterproof zips) and two internal (one zipped), and a pocket in the sleeve for lift passes. Topped off with a durable Gore-Tex outer, the only thing that makes this jacket better is pairing it with the matching pants.
6 – BEST FOR COLD WEATHER HIKES
Jack Wolfskin, DNA Rhapsody 3-in-1 Jacket – £230 | www.jack-wolfskin.co.uk
All through the wet, decidedly un-Christmassy Christmas weather we had at the back end of last year, I lived in this jacket. Every soggy dog walk, every last-minute dash to the shops, it was my go-to. And I love it.
The three-in-one jacket was popular among hikers during the 1990s and for good reason. It just works. The DNA Rhapsody follows the exact same principle as the three-in-one jackets of old — a zip-out fleece inner and waterproof outer — and I for one am glad to see it making a comeback here.
There are some tweaks on the Rhapsody that have improved the three-in-one experience though. Little things like the addition of a nylon fabric inside the arms, means you can literally slide into the recycled fleece jacket instead of forcing your arms down narrow woolly holes.
The YKK zips are large, smooth, and easy to use, so changing your jacket up while on the go is a cinch. The internal pockets are a nice touch too.
On the outside, you get a recycled water-and windproof breathable shell with an adjustable peaked hood, adjustable hem, and water-resistant zips on the handwarmer pockets. You also get a pretty stylish-looking jacket in my opinion.
7 – BEST FOR SNOWY ADVENTURES
Arc'teryx Sentinel IS Jacket – £600 | www.arcteryx.com
Built for freeride tours, the Sentinel is a ski jacket you can take out on a snowy day hike just as easily as cruising down the piste. It's surprisingly lightweight and slim-fitting for an insulated ski jacket; it's also robust and supple to wear, giving you loads of freedom to move. The unencumbered feel of the Sentinel means it works well with a variety of layering options underneath it, giving you plenty of scope to customise your kit for the type of cold-weather adventure you've got planned.
Inside, there's a synthetic insulation Arc'teryx calls Coreloft, which is designed to retain maximum warmth and loft with minimal bulk even in damp conditions, and it's very effective. The knit lining is also smooth and comfortable to wear, and there is a dump pocket and a zipped inside chest pocket to take a phone, camera, or similar device. The longline hem is adjustable and a powder skirt completes the outfit.
On the outside, the shell is waterproof and breathable with water repellent zips on the handwarmer pockets, ski-pass sleeve pocket, and underarm vents. These vents are easy to access with their two-way zips — no yoga moves necessary to operate them — and they're backed with a fine mesh fabric. The peaked hood is fully adjustable and will fit a helmet; it's also lovely and soft inside. As with all Arc'teryx products, it's beautifully made and will likely be a joy for years to come.
8 – BEST FOR FAST, LIGHT ADVENTURES
Montane Fireball Jacket – £200 | www.montane.com
One for the fell runners, this! The Fireball is a multi-season jacket designed to be used as an outer or mid-layer on fast-paced mountain adventures where performance is key.
Most of the Fireball's credentials come from the clever fabrics used in its make-up. Techy waffle, the kind brands invent to apparently bamboozle buyers into parting with their hard-earned cash, is one of my pet hates, so it's refreshing to see that Montane's done away with much of this in its explanation of the Fireball's attributes.
Basically, what you get is a three-layered sandwich of performance materials. The outer and the inner are made from a two-way stretch nylon, which repels light rain but allows the air to pass through for breathability. It also allows for plenty of freedom of movement.
The filling in the sandwich is a four-way stretch perforated synthetic insulation, which is made from 55 percent recycled materials. This traps warmth but allows for airflow, so you can regulate your core temperature when working hard.
And that's it. Simplicity at its best. A zipped chest pocket, elasticated cuffs, adjustable hem, and a hood complete this neat package. The Fireball may be small, but it's mighty in the mountains.